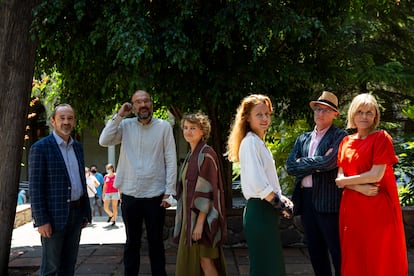 "It is by believing in roses that you make them bloom," wrote Anatole France. With the same confidence, the international project Roots and seeds XXI, biodiversity crisis and plant resistance, Sponsored by the European Union, it has organized an event in Barcelona that has a garden as its center. For two days (Thursday and Friday) this international cooperation project in which the Ars Electrónica festival (Austria), the Leonardo / Olats Art and Science Observatory (France) and the University of Barcelona (UB) collaborate, brings together about twenty of professionals from the most diverse fields, but related in some way to plants, to discuss the crisis of biodiversity, with the intention of proposing sustainable forms of relationship with nature and especially with the plant world. Among the participants, artists, philosophers, biologists, people from the world of fashion, landscapers and even a farmer devoted to permaculture (who defends a new agricultural system in harmony with nature), and a specialist in forest pathology and health of the trees, a discipline that not only exists, but in which classes are taught -at the University of Padua-: Lucio Montecchio, baptized by the Financial Times as "the man who saves trees." Really only missing Poison Ivy.
The meeting takes place around the garden of the historic building of the UB, a space with more than 150 species of plants from all over the world and which is the scene of one of the main activities that gives the entire event its title: Multidisciplinary mapping of a garden. This activity consists of the joint mapping of the garden by the participants, who will collect the data of the plants, each one from their field of specialty. Likewise, a performance in the garden by the artistic collective Akyute from a sound reinterpretation of the data collected. As the Persian proverb says, gardens are allies of light, and never a garden has come out of darkness.
The project in which the meeting is framed, led by the Quo Artis organization that promotes initiatives at the intersection of art and science (such as the artistic expedition to Antarctica in 2017 and another similar one that prepares the Galapagos this September), has a duration of two years (October 2020-October 2021) during which cultural activities are developed that combine artistic-scientific methods and approaches with the intention of raising awareness about the crisis of biodiversity. The Barcelona event will have replicas in Paris and Linz in September, adapting the format to different gardens and with other participants.
The first day, dedicated to the presentation of communications and round tables, has allowed to meet such interesting people as the visual artist and researcher of the geopoetics of environmental processes, Miguel Sbastida, who works, with a colonial perspective, on plant species invasive, including water hyacinths, true threatening trifids capable of doubling their population in 12 days and with viable seeds 20 years. In his speech, Montecchio explained that a tree is an entire ecosystem, that he, as an arboreal pathologist, tries to keep them healthy rather than cure them and that one of his areas of research is to try to understand the reason for the decline of forests and jungles. Like other participants, he has defended a new way of approaching nature not only from science, but from poetry, philosophy and art.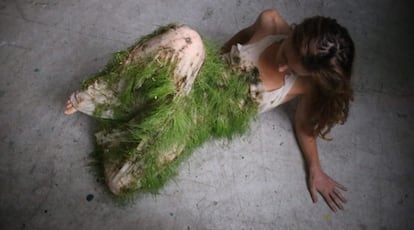 The landscaper and municipal green technician Gabino Carballo, in addition to winning the award for the participant dressed most appropriately for the meeting (shirt with plant motifs and matching green mask), has addressed the management of cities in terms of vegetation, has advocated for using to the insects themselves instead of pesticides to eradicate pests and has called to "go with nature and not against it." Antonio Riello, artist with a degree in Pharmaceutical Chemistry who shocked the world of book lovers in 2009 with his work Ashes to ashes In which he exhibited in glass urns the result of ceremonially burning his personal library, he has shown images of tree leaves tattooed with logos of brands such as Chanel or Louis Vuitton. He has argued that art has to help make environmental problems viscerally more interesting, as a way of influencing the public imagination.
Paco Calvo, professor of logic and philosophy of science and director of the MINT Lab, specialized in plant neurobiology, has displayed a contagious enthusiasm when explaining the experiments anesthetizing plants and conjecturing about the intelligence of these, in which it is observed, has pointed out, flexible, anticipatory and even proactive behavior. He has agreed with other participants that we have to rethink the plants, and worth the tongue twister, as subjects and not objects. Evgenia Emets spoke about her (very) long-term project Eternal Forest Sanctuary which aims to create a thousand sanctuaries and protect them for a thousand years through art, ecology and communities. This visionary project worthy of Mysterious ships includes the figure of the resident forest artist. Also artist Paula Bruna, graduated in Environmental Sciences, has shown a disturbing video of an entity of semi-moving grass and has invited us to "deanthropomorphize" our concepts of plant life to understand the "plurireality" that reigns in nature.
Polluting fashion
Especially interesting has been, in the session on rethinking our environmental impact, the intervention of Marco Agnolin, former director of Bershka and Diesel and creator of a new sustainable fashion brand A Better Mistake that rejects the throwaway model. Agnolin has tackled the vicious link Come in fashion & carbon emphasizing how the textile industry is the second most polluting after that of hydrocarbons. He said that it takes 3.78 liters of water to make jeans and 2.7 for a T-shirt and that the fashion business causes more annual carbon emissions than international flights and the shipping industry combined. That washing our clothes throws half a million tons a year of microfibers into the sea, as polluting as plastic bottles. But something is changing, with Levis, for example, who has committed to using sustainable cotton which means reducing water in his crop and pesticides and fertilizers. He has noted other cases such as Rothy's recycled shoes and bags, Adidas' collaboration with the start-up Infinite Fiber, which transforms used clothing into material to be reworked or the use of chitosan or chitosan, a substance from the exoskeleton of crustaceans, in agriculture as a substitute for chemical agents.
For her part, the artist Robertina Sebjanic has shelled out the concept of Aquatocene by talking about her work on aquatic environments, exploring the human impact on other species. Of special emotion has been the intervention of the farmer Nacho Peres who has used moral criteria and not only environmental to ask, "with the humility of those who are in permanent contact with the land", a "regenerative agriculture" and integrative that allows to leave the that "a fertile and decontaminated land" happen to us. A wish of hope to deposit in the garden. As Martin Luther King said: "Even if they announced the end of the world for tomorrow, I would plant an apple tree."