The expert voices are practically unanimous who argue that Antony and Cleopatra, written in 1606 by William Shakespeare, brings together all the arts that the English playwright knew how to use. The National Classical Theater Company (CNTC) has tried to do something similar, adding the best materials it could count on to put up a new assembly of this work that will premiere this Thursday at the Almagro Theater Festival. On the one hand, the direction of José Carlos Plaza, one of the most prestigious professionals on the Spanish scene, who has pampered, as he usually does, the selection of elements. As Cleopatra has chosen her fetish actress, Ana Belén, who was also the beloved Miguel Narros. The role of Marco Antonio is played by Lluís Homar, director of the CNTC and unquestionable actor. And the rest of the cast is made up of well-known actors from the Plaza palette or from the CNTC itself: Ernesto Arias, Fernando Sansegundo, Rafa Castejón, Elvira Cuadrupani, Israel Frías and Javier Bermejo, among others.
Plaza once again makes a tandem with one of the greatest experts in Shakespeare in Spain, Vicente Molina Foix, responsible for the translation and version, who recalls that Antony and Cleopatra it was barely represented in its beginnings, until it was rescued in 1759 by one of the legendary figures of the British theater, David Garrick. "Even so, the work did not enter the repertoire, perhaps because it was an excessively daring text for those centuries that saw blood flow on stage or the representation of incest and rape, but in which the unrestrained carnal intimacy of an illustrious historical couple could scandalize ", explains the writer. Other great interpreters who have starred in this piece have been John Gielgud (1931), Laurence Olivier and Vivien Leigh (1951), Timothy Dalton and Vanessa Redgrave (1986) and Alan Bates (1999). In Spain it was set up by José Tamayo in 1980 and by Plaza himself in 1996.
The work is marked by a resounding sense of humor: "The extraordinary version of Molina Foix helps to extract it, everything is surprise and more surprise, both in the situations and in the dialogue, which leaves you speechless", says the director, who, like Ana Belén and Homar, she has already gone through a good handful of Shakespearean plays. "I have tried to make a show with the coordinates required by today's society, it is not realistic at all, but not vulgar either, we have gone to what is truly essential. Shakespeare speaks of great human beings, of heroes, but always addressing the people of today, projecting into the future, speaking of the human condition when it reaches the lowest instincts, greatness… ".
For the director, Antony and Cleopatra understands the nature of Shakespeare's total work. "There is the power, the terror of war, eroticism, the man with himself… It is endless, each work contains another 50 inside. I am getting more and more surprised and I always try to pay attention to William Layton, who said: 'Take Shakespeare's hand and don't help him much, let him help you ".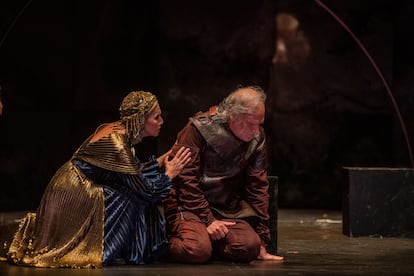 For her part, Ana Belén knows that Cleopatra is considered one of the most complex female characters in Shakespeare's dramaturgy. "She is tremendous, a changeable woman, there is no other so capricious, domineering, willing to always get her way, capable of playing with everyone and also insatiable in every way, tremendously sensual, with an important political side. He is a character full of edges, nooks and crannies and so changeable in his emotions that throughout a scene each of his sentences can correspond to a different place. As an actress it costs a lot, "she says. The actress confesses, however, that this produces "panic and pleasure" simultaneously.
Homar, who has represented many shakespeare, It is the first time he has faced this work. He saw it directed by Peter Brook, but has never had it in mind, until now that he has chosen it as director of the CNTC. "We are excited, they are huge and stratospheric characters, we have a version of a very high voltage and a director who knows how to embody the words of Shakespeare. To all of us, within the anxiety, it gives us serenity to go hand in hand with Plaza ".
The assembly, with scenography by Ricardo Sánchez Cuerda, will be performed from July 1 to 4 in Almagro, but later it will have more travel. From July 8 to 11 it will be seen at the Mérida Festival and from September 23 to November 7 at the Madrid Comedy Theater.