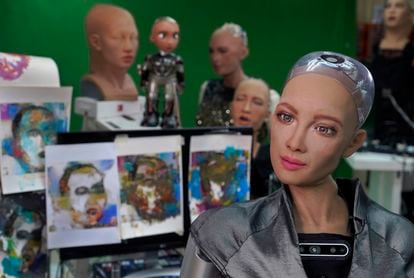 Robots don't dream of electric sheep yet, but now they produce art that sells for hundreds of thousands of euros. A piece made by Sophia, a humanoid created in 2016 by Hong Kong-based Hanson Robotics, has been auctioned for nearly $ 689,000 (around 580,000 euros) in the robot's first public bid. The work, titled Sophia Instantiation, is a token no fungible o NFT (a digital file whose unique encoding makes it impossible to duplicate), and was made in collaboration with the digital artist Andrea Bonaceto (this yes, a human being). The piece consists of a 12 second MP4 file that shows the evolution of a portrait of the robot by Bonaceto that has been transformed by her and is accompanied by a physical print of the final portrait, colored by Sophia. So far the identity of the buyer is unknown.
The robot Sophia: "Humans are the most creative creatures on the planet but also the most destructive"
Bonaceto comments in a phone call to EL PAÍS that he found the auction to be received "incredible" and considers that its value goes beyond the monetary. "The industry has understood the depth of what we were achieving and that attracted some of the biggest collectors in the field of NFTs," says the artist.
Sophia Instatiation it is part of the growing presence of NFTs in the art world, which use the same technology behind cryptocurrencies. Digital artist Beeple caused a stir last month when one of his creations sold for € 57 million. Other plays that have been sold with the NFTs include a column of The New York Times for more than 478,000 euros, and the first tweet of the founder of Twitter, over two million euros. Soccer teams have also entered the business, such as Real Madrid and FC Barcelona, ​​who have released digital cards.
Sophia's collaborator Bonaceto points out the benefits this technology offers to artists like him: "The problem is that you couldn't really create original, authenticated digital art before. Now with the non-fungible tokens Yes. If I mail a file, then you have a copy and I have a copy. It has no intrinsic value ". Bonaceto thinks that instead of talking about crypto art, one should talk about physical art and digital art, the NFT being simply a way of certifying the works as original in the digital space.
The director believes that the daily use of NFTs in the art world "is something that is here to stay."