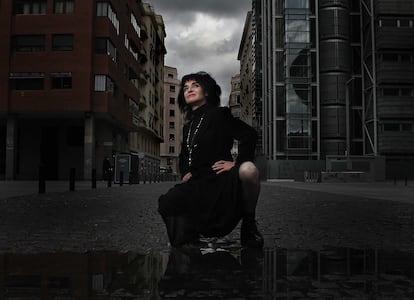 The enigma is how Ana Curra has survived. The answer is given by her: "I have a good physical raw material inherited from the mother's root. We are strong, powerful women. And I also received an austere education, a great gift from my parents, and disciplined thanks to studying the piano since I was little. When you see the abyss and you lose the north you cling to those tools acquired from when you were a child. And they can save you ". His mother is 87 years old and his father 97. One of his grandmothers recently died at 110. Hard, rocky paste. Like his new work, Heel, a song / symphony about his feelings with the pandemic.
Ana Curra (Madrid, 62 years old) has staggered many times throughout her life. At the age of 25, a member of one of the most magnetic groups in the Madrid scene, Paraálisis Permanente, was driving a car on the way to a concert in Zaragoza when he lost control. Eduardo Benavente, singer, guitarist and rising star, with whom he lived a powerful love and rock story, shot out of a window and broke his neck. He died. I was 20 years old. A decade later, another of his partners died young, the poet El Ángel. AIDS. She accompanied him in his twelve-month agony. These two blows Ana Curra anesthetized them with heroin, to which she was hooked. The latest setback has been the death of his brother Javier's brain lymphoma, who instilled in him the rock virus with his records by Dr. Feelgood, Bob Dylan or Elvis Costello. "I'm still in the process of getting over it," he says today of this latest loss.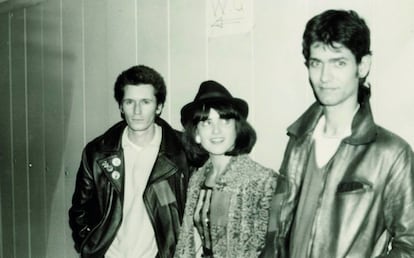 Curra is dressed in black (mask included), as always. She is sitting in a cafeteria near her home, in the Goya area of ​​Madrid. For the next hour and a half he will consume two short canes and will not taste the fries the waitress serves him. He does not look at the mobile at any time. Speak clearly, do not hide. Sometimes his speech is scattered through the labyrinth of his head. He realizes: "What a roll I have told you. Then you order it, okay ".
Few musicians as independent as her in Spanish rock. They asked her to be "the Spanish Madonna", but she refused. She had an image, she was sexy, cultured, she played (at 21 she finished her piano career), she sang, she provoked. But to all the proposals that threatened his freedom, he said no. He felt a fondness for the margins, the danger, in reaching wisdom on the path of excess. "I've always liked music more than being famous," he says.
We are a mutilated and wounded generation. We have not had to live a war, but we have had the AIDS pandemic and the heroin pandemic
After getting bounced out of three nun's schools ("my parents are very religious, but they have always respected me and I get along phenomenally with them") in her town, San Lorenzo de El Escorial, she went to study at a higher school in the Madrid center. There he discovered the beautiful and incandescent world that began to drive a youth eager to discover things. The move. Curra was part of Alaska and Los Pegamoides. She was a punk woman in an environment without feminine references in this style and few masculine ones. She liked Killing Joke, Siouxsie and the Banshees, Bauhaus, The Cure… They called her "her most sinister".
One day Eduardo Benavente, a tall, seductive boy, hungry to eat the world, arrived at the venue. They fell in love. "The relationship with Eduardo was very intense because we were teenagers. It was the first love. And we were discovering the world together. And music. It was a very beast connection. Because we had a band, we played… ". They were the ideal couple. Beautiful, modern, interesting, transgressive, punk. They recorded The act (an album that becomes more mythical every year), with lyrics about lust, death and drugs. Vigorous and dark punk. But the accident came in 1983. "When Eduardo dies, a big ax hit me because I didn't understand anything. He did not understand how suddenly all that had disappeared. Was very young. It left me very touched ".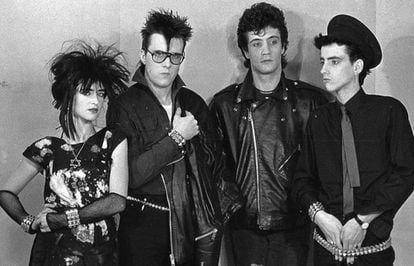 He continued to perform with Empty Beings, but it was not right. He got hooked on heroin. "At that time you had to put off bareback. Getting through withdrawal is not easy at all. And when you go through it, the worst comes: starting over when you have many insecurities and a great emptiness inside ", he says. How did you get it? "I've been trying for a long time. He was a warrior fighting. He went to a battle and lost it; I tried again, and lost; another, and lost. It was a very big disaster. Finally I got it. I was clean for a decade and relapsed. But 10 years ago I definitely left everything ".
At the beginning of the nineties he continued working on projects far from commerciality. "I am not financially ambitious. I can't get the money. I am lucid when it comes to choosing things. I do not have the money disease, and that is a great advantage ". He organized poetry festivals now unimaginable: thanks to his intoxicating authenticity, he managed to gather Richard Hell, Leopoldo María Panero, John Cale, Lydia Lunch or Manolo Kabezabolo. Her partner was the photographer Alberto García-Alix, who chose her as a model for many of his great images.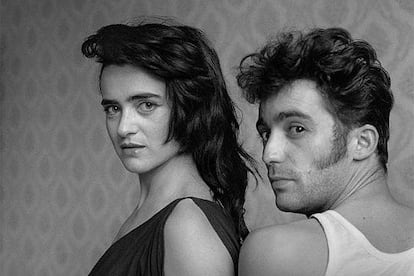 But a figure appeared that broke his schemes, the Madrid poet and musician Ángel Álvarez Caballero, known as El Ángel. Curra left Garcia-Alix for an underdog sick with AIDS, with whom he recorded the raw and throbbing Angel dust. "It was the most fascinating adventure I have ever experienced. I knew that El Ángel was going to die, that this relationship had an expiration date. But I didn't care. Everything I learned, what I shared, everything he gave me… ", she relates, excited. El Ángel died in 1994 at the age of 33. Ana Curra saw her life open up under her feet again.
In the last 20 years he has disappeared from the live show for some time and several years. She has worked as a piano teacher at the El Escorial conservatory. He passed the opposition nearly four decades ago and never quit, even when he was playing punk every weekend. About ten years ago he decided to recover live The act, the first and only Permanent Paralysis album. Since then, and always moving along roads little traveled, he has not stopped participating in projects.
Of the songs he composed with Benavente, he does not charge copyright. They are referential themes of Spanish punk like Addicted to lust, The act O I have a price. "The record company [Dro, luego Warner] He never sat down with me to talk to fix that. They did not want to regularize it. They shunned me for being a woman. Because they didn't do it to Eduardo: they charge royalties their heirs ". The topic of death comes up again: "It has always interested me, and I have had to live it from a very young age. It is the most important lesson in life. If you want to live intensely from day to day without wasting time on bullshit, you have to learn what death means. We are in a standby, so we better do what we want. Then you are going to face a death that nobody knows what will happen next ".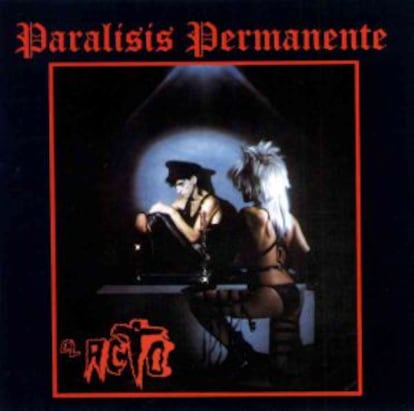 He speaks of his people: "We are a mutilated and wounded generation. We have not had to live a war, but we have had the AIDS pandemic and the heroin pandemic. People were not interested in that pandemic because the dirt was dying. The laboratories were not going to invest what has been invested now because they were not going to earn what they are earning now. But those of us who live it now remember the AIDS pandemic ".
His latest creation is called Heel, a song / symphony of six and a half minutes that, of course, comes from the gut and sounds punk: "I compose it from the deep sadness and bitter taste that the pandemic produces in me. A shameful ignominy has been committed to our elders that cannot be justified. Also, you realize how far we have destroyed the planet. Four days after confinement I found a peacock at the door of my house and the plants broke the paving stones to get out. And then there is the political tension … All this mogollon of feelings appears in Heel". She wants to make a claim on herself. "I compose like a fucking, I do it very well. I am going to say it once, because I have always been in the shadow of others. And I am fed up. I've always been 'Eduardo's girlfriend', 'El Ángel's',' Pegamoides' keyboard player '… I've been doing this since I was little and I know how to do it very well ", she explains in a calm voice.
She laughs when she remembers that she has been left for dead more than once. He has no children, but he does have 11 nephews (they are six siblings) and the students in his classes, which he takes at the age of seven and does not release until he is 21. He goes to work every day after 1 hour and 40 minutes by bus, and another both back. He teaches his students classical concepts, but also punk. He goes on stage with them, he trains them on how to move, how to face an audience. Always from the guts, without giving up his freedom. Like her.