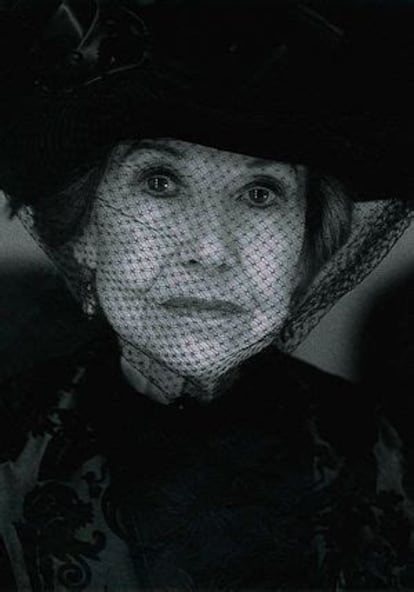 With the death of Ana María Ventura (Barcelona, ​​99 years old), one of the most beloved people in the performing profession disappears. And he was so not only because of his affectionate and endearing character, but also because of the admiration he aroused for his professional expertise and a vast culture that he did not boast about, but that as soon as it appeared left anyone stunned.
Fetish actress of the late Francisco Nieva who used again and again to premiere his works and in his stage productions, because it seemed sublime and versatile.
In the 1940s, he began his professional career in the popular company of Isabel Garcés, and a decade later with the prestigious company of Catalina Bárcenas. It is from the fifties when he joins the company of the Gutiérrez Caba parents, where Irene and later Julia, with whom he has maintained a great friendship until ten days ago, already worked. "Both in the professional and personal sphere she was very scrupulous and put her soul into everything, she knew a lot about art, cinema, but also soccer and tennis," says the actress.
She was the first wife of José Luis López Vázquez, with whom he had no children and from whom he divorced when he could, although the separation occurred before. She sometimes had a vindictive attitude; "I stopped being the lady of, to become Ana María Ventura and since then it is what I have been." And it is that in addition to being under the fame of the then husband, he also had to ask him for permission to work, travel, collect a salary, open a bank account …
Andrés Peláez, historian and director of the Theater Museum for decades, commented upon learning of his death that he was one of the most cultured actresses he had ever met in his life: these subjects with two other wise men such as José Luis Alonso and Francisco Nieva. It was nice to hear them.
The costume designer and set designer Pedro Moreno, who worked with her on various productions, says that when she made Las amistades dangerous in the Catalan version, she left the actors in Barcelona perplexed by her perfect academic Catalan, but then the Spanish version arrived and her diction was also impeccable. "He taught actresses how to handle clothes in the 18th century." Both Moreno and Peláez remember that when she did Las Comedias Bárbaras, by Valle-Inclán and directed by José Carlos Plaza, he told her that her role required being half naked. She, who knew the work by heart, had come forward, opened her blouse and showed some wonderful, recently operated tits. "She was a genius", point out the two professionals.
She worked for more than a decade at the María Guerrero National Theater directed by José Luis Alonso, but was also claimed by other greats such as Marsillach, Miguel Mihura, Alberto Closas, Miguel Narros, William Layton, Jose Carlos Plaza, Núria Espert, Lluís Pasqual , and especially it snows. His last performance was in 2011, at the age of 89, in Woyzeck, by Georg Büchner, directed by Gerardo Vera.
His forays into television and cinema were numerous, highlighting his work under the orders of Juan Antonio Bardem, Mario Camus and José Luis Borau.
The body of Ana María Ventura is in room 14 of the Nuestra Señora de los Remedios North Funeral Parlor in Madrid from Thursday, until Saturday morning, when she will be cremated at the Almudena Crematorium.