It is the usual fair, but also a different one. Arco, the great contemporary art event that opened its doors in Madrid this Wednesday, opens with capacity reduced to 50% and with a probable decrease in visitors at its opening to the public this weekend. This time there is no guest country or specific topic. The number of galleries has plummeted (130, compared to 209 in 2020) and the corridors have become wide and even somewhat dystopian. For the first time in many years, sales appear uncertain, while prices are less stratospheric than in the recent past. The most sought-after piece could be a work of kinetic art by Jesús Rafael Soto, in the Cayón gallery, estimated at 1.3 million euros, followed by a Calder mobile, which sells for 800,000 euros, and a small canvas of Picasso, for 750,000 euros, both exhibited in the Leandro Navarro space.
Despite the changes, Arco will be able to score a point: it is the only major international fair that has not suspended any edition due to the health crisis and marks a symbolic return to the (new) normality in the European context, after the celebration, too in physical format, from encounters such as Frieze New York and Art Basel Hong Kong in recent months.
The scenario remains the same, but it also seems different: those pavilions of Ifema, on the outskirts of Madrid, which became an ephemeral hospital at the peak of infections, a traumatic and still poorly digested episode that perhaps makes euphoria impossible. Everything has become calmer and more predictable, with fewer effects than other times, without scandalous works or gratuitous and eccentric gestures. "It is true that I see a restraint, a serenity and a seriousness typical of this moment. It is less a celebration than other times and there is a more attentive way of seeing art ", admitted at the beginning of the day the director of the fair, Maribel López. "It is a different edition, but what has not changed matters more: we maintain quality, internationality and the support of collectors," says López, who assures that 250 potential first-level buyers, a hundred less than usual, will pass this week in Madrid.
Despite the prevailing sobriety, a handful of works managed to attract groups. For example, him Guernica by Agustín Ibarrola, a 10-meter mural that pays tribute to that of Picasso in the space of the gallery owner José de la Mano, for which he received four different offers on the first day of the fair, which will end on Sunday. They also piled up in front of a Gothic-inspired triptych by Gino Rubert, on the stand of the Senda gallery in Barcelona, ​​which brings together a hundred portraits of personalities of Spanish art, from Dalí and Tàpies to Jaume Plensa and Miquel Barceló (which also presents, for true, two new works with Elvira González).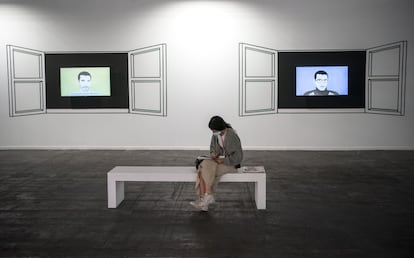 The selfies, as essential in any fair as the sales themselves, were staged before two pieces as political as they were spectacular: a sculpture by Fernando Sánchez Castillo that commemorates the Tlatelolco massacre in 1968, in the Albarrán Bourdais space, and another by the Cuban Dagoberto Rodríguez, engraving in marble an atypical neo-feminist slogan such as I dog alone, out of the Bad Bunny song, in the Sabrina Amrani gallery.
Still, one of the most stimulating threads consisted of following the trail of the art produced since the previous edition, in February 2020, throughout the pandemic period. In the F2 Gallery, Simeón Sáez Ruiz enlarges a press image of the first day of the lack of refinement, in May of last year. "The world has stopped, but the minds of the artists have continued to work, with less pressure and more time. This period has had a more or less explicit reflection in his work ", stated the gallery owner Paloma González.
For its part, Espacio Minimo collects a recent performance by Maider López, who paraded an actress with a plant in her arms in a central Bilbao street, at the same time and for 30 days in a row, a way of bringing a bit of theatricality to the unchanging routine of life rhythmic by curfews. In the same gallery space, Bene Bergado presents his work on reflective filters that protect patients from severe immunodeficiency syndrome, a metaphor for the precariousness of life that the pandemic made more flagrant than ever.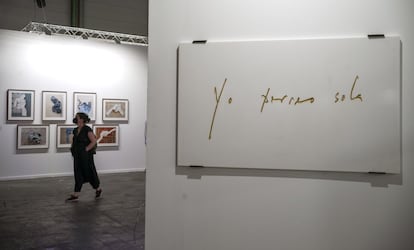 54% of the galleries represented in this edition of Arco are international. These include prominent names such as Perrotin, Lelong, Mor Charpentier or Thaddaeus Ropac, but not the initially planned Hauser & Wirth, about to open its branch in Menorca, nor a large part of the Latin American galleries, still unable to travel (some of they have been concentrated in the new Senders section, made up of portable works or in video format). In this foreign representation there is also the Berlin gallery Peres Projects, which presents the work of Manuel Solano, a non-binary Mexican artist who was left blind by HIV, who paints a domestic Pilates session during the last confinement, except if it is Jane's eighties. Inn.
The space of Max Estrella exhibits Concert for the biocene, the recital for plants that Eugenio Ampudia orchestrated at the Barcelona Liceu in the middle of the collective confinement, together with an NFT by Daniel Canogar, one of those "non-expendable digital assets" that have become the most fashionable format in the market (you can see at least two others, in Baró and Àngels Barcelona). Meanwhile, the Luis Adelantado gallery presents a selection of art from the last year very inscribed in the domestic space. "There has been a tendency to recollection, a work on a free time that became perpetual and the use of any available space as an improvised artist's workshop", points out Laureano Núñez, from the Valencian room. Examples abound: from the latex gloves woven into cloth by Fuentesal and Arenillas to Javi Cruz's elegy for a tree planted the year of his birth, which would be cut down during confinement. Finally, at Heinrich Ehrhardt's stand, Secundino Hernández presents a canvas full of brush strokes of almost expressionist color, with which he seems to return to military for life after several years of white and gray. Significantly, it is titled One more day.
In the space of Juana de Aizpuru, the incombustible gallery owner who promoted the creation of Arco 40 editions ago, a work by the Portuguese Pedro Cabrita Reis, specially made for the fair, refers to that same imaginary: a shattered metal door, as if someone he would have hacked to pieces to escape inside. De Aizpuru occupies the largest space in this edition, with more than 200 m2, if a new store and storage space are added to its spacious stand. "Arco is in danger, so here I am to support it, although I would have preferred to avoid all risks," acknowledges the gallery owner, who was in favor of suspending this extemporaneous edition and waiting for the one that will take place in 2022, on its traditional dates of February , to which it has been preferred to postpone the 40th anniversary celebrations.
De Aizpuru regrets the cancellation of some Spanish galleries in this edition (Projecte SD, Nogueras Blanchard or 1 Mira Madrid, among others), but he understands them. The price per square meter has dropped by 30%, to 300 euros, but the cost is still unaffordable for theaters that risk disappearing if they do not recover the investment. "You have to have a vocation and the wood of a hero to do this job in Spain. Economically, we remain very weak. I have risked losing money, like all of us who have decided to come, "recalls De Aizpuru. The art fairs were the titanic aircraft carriers of the excessive growth of contemporary art in the last two decades. Now they may be the lifeboat with which to reach the mainland again, as long as one avoids the danger of sinking into the ocean.