The prolific Argentine writer César Aira, 72, author of a hundred titles, has been honored this Monday with the 2021 Formentor Prize, endowed with 50,000 euros. The jury has awarded him the award for "the indefatigable recreation of the narrative impetus, for the versatility of his endless story and for the playful irony of his impatient imagination," the statement said. The jury, meeting in Seville, considers "that the labyrinthine constellation of his work is an immense literary melting pot for the figures of popular culture, the characters of great narrative fiction and the visual motifs of the fine arts". Aira, born in the town of Coronel Pringles, is a translator, as well as a writer, and has lavished himself especially on the short novel.
Aira has lived in Buenos Aires since 1967. Since 1981 he released his first novel, Mom, the captive, has published more than a hundred works, including essays and theater. His works have been translated into numerous languages ​​and one of his most popular titles has been How i became a nun (1993).
The Formentor Prize recognizes the quality and integrity of authors "whose work consolidates the prestige and influence of great literature", underline the bases of the contest. As of this year, the award regains its roaming and is renamed Prix Formentor. In this new stage, the jury meetings and the award ceremony will be itinerant, following the route that was traced during the first part of the award's history, promoted by the alliance of European publishers. On this occasion, the jury was made up of Anna Caballé, Francisco Ferrer Lerín, Juan Antonio Masoliver Ródenas and Gerald Martin, and the jury was chaired by Basilio Baltasar.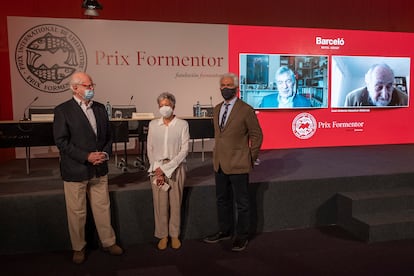 According to the jury, Aira's writing "adopts techniques whose rigor, freshness and ease recall the jazz keys of artistic improvisation. On the invisible structures of inspiration, the author raises scenarios and voices that disconcert and feed the perplexity of the reader ". Furthermore, "the conventions of time and space, a paradigm that regulates the narrative profession, appear in Aira's work as secondary formalities that are often replaced by flashes and gleams, resources and licenses put at the service of a boisterous inventiveness". "His fruitful and persevering creativity make up a daring fable of the postmodern world and confirm the poetic art of an exceptional aesthetic juggling."
Among the authors who have received the Formentor on previous occasions, the following stand out: Carlos Fuentes, Juan Goytisolo, Javier Marías, Enrique Vila-Matas, Ricardo Piglia, Alberto Manguel, Mircea Cartarescu, Annie Ernaux and Cees Nooteboom.