José María Lorca (Murcia, 20 years old) and Samuel López (Lugo, 20 years old) were emancipated bordering on coming of age, more than a decade earlier than the average for Spaniards, according to Eurostat data. The two of them also did it in a foreign country, without the comfort of their mother tongue and with their family and friends thousands of miles away. They are students of the English National Ballet School (ENBS) from London, aspiring to a career in classical dance who, like many of their compatriots, have had to find their way outside of Spain.
In their student life away from home, there is no room for late-night partying or dinner pizzas. His daily discipline consists of getting up at seven in the morning, traveling through the chaotic public transport of the British capital to get to class, living in a residence whose menus are not designed to maintain the strict diet of a high-performance center and perfecting In their spare time, English is very different from the one they learned at their institute. The figure of the guardianA person assigned to them by the school to help them organize their lives is very helpful, they admit. They have returned to face-to-face classes a few weeks ago, after a course marked by the strict sanitary measures of the United Kingdom to combat the coronavirus crisis.
"Much smaller places with fewer resources, like the Czech Republic and Poland, have several companies nationwide. In Spain there is only one "

Juan Eymar, teacher and tutor at the English National Ballet School
When they first entered the classrooms of the prestigious British center two years ago, the Galician and the Murcian already knew each other. They had started a friendship based on meeting during the previous months in all the possible tests that the ballet institutions of much of Europe organized in Madrid and Barcelona to select new students. "We did tests like crazy," Lorca recalls. "Since Víctor Ullate's school closed, the options within Spain are increasingly limited," he says.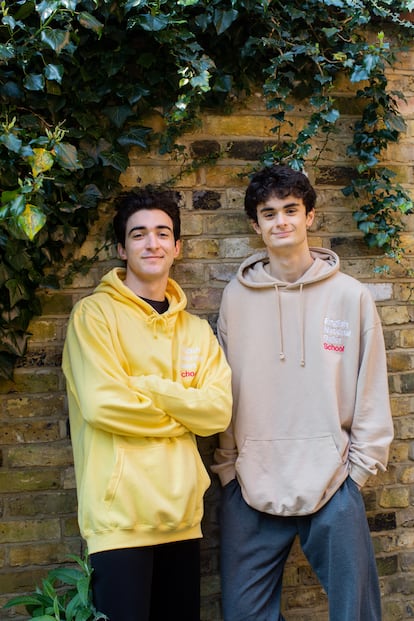 Juan Eymar, a former dancer and one of the ENBS teachers and tutors, confirms this: "Since that closure, young Spanish people have practically only the National Dance Company, which cannot give everyone opportunities," he says. "There is a disconnect between the number of students that conservatories produce (almost all provinces have one) and the small number of companies that there are so that later those students can dedicate themselves to it professionally." Ullate explained in 2019 that the closure of his company was due to the fact that it was "economically unviable", despite receiving an annual subsidy of one million euros from the Community of Madrid and aid for its various projects worth one and a half million by the National Institute of Performing Arts Music (Inaem). In 2020, the choreographer also liquidated his school using the same argument.
Vocation not inherited
Neither Lorca nor López inherited the vocation of ballet in their homes. The first of them discovered that he could dance when it was proposed to him in his early childhood education class as an extracurricular activity and then he linked his training in school with an Elementary Dance Degree and attending the Professional Dance Conservatory of Murcia. His partner became hooked when his parents took him to see traditional Galician dance and later, when they realized that it had become a hobby for their son, to a performance at the Lugo Conservatory of Dance. He took his first class at the age of seven, he remembers. Their teachers told them that if they wanted to continue professionally, they had to leave Spain.
"In this profession you have to mature at once. It is a very valuable experience, but one that may take its toll on you later "

Davis Yudes, solo dancer of the Royal Ballet of London
Both face the expensive ENBS tuition of £ 19,000 per course (more than 22,000 euros), through a grant from the British Government. Once Brexit is approved, part of these grants will continue to be provided to foreign students. The rest of the expenses are borne by their families. "Only in accommodation and food easily exceed another 20,000 euros a year," says Lorca. "And without any help from the Spanish Government, neither at the state nor at the regional level. My parents were investigating and it was impossible to find anything, "adds López. Studying outside of Spanish territory complicates your access to aid to artistic education students of the Ministry of Education, while Inaem focuses on support educational centers and not students. It is, therefore, other countries that are in charge of being the patrons of the promises of Spanish dance. For Professor Juan Eymar, "it is a matter of priorities for the Spanish Administration. Much smaller places with fewer resources, such as the Czech Republic and Poland, have several companies nationwide ".
Although a school in Amsterdam had also selected both young people, they preferred to try it in London because it is "a city in which dance is developing the most and the one that organizes more and more varied projects, both classical and contemporary," he argues. Lorca. The British capital is one of the destinations dreamed of by Spanish dancers.
In addition to its school, which is part of what is one of the most prestigious centers in the world in this discipline, the English National Ballet, of which Tamara Rojo has been artistic director since 2012, in the city is the equally renowned Royal ballet. To David Yudes (Badalona, ​​24 years old), solo dancer of this company and currently one of its few Spanish members together with Itziar Mendizábal and Laura Morera, he was especially excited to travel to Madrid in 2018 to represent Swan Lake at the Royal Theater. But he was shocked by the lack of an audience. "Under normal conditions, in London we offer shows from Monday to Friday and they are almost always full. In Madrid, we made only five or six passes and there were plenty of tickets. That means that something is happening with regard to ballet in Spain ", he admits.
Yudes has been away from home since he was 13 years old. His mother, the owner of a dance center in Badalona, ​​knew from the experience of her students that her son had to enter international competitions in order to prosper in this profession. At that age he already won one that offered him a scholarship to study for several years at the Princess Grace Academy in Mónaco. "Suddenly, I found myself living in a Monte Carlo palace that the princess donated for the arts in her day and that had been converted into an academy. There he lived with thirty other students. My parents came every few months to visit me, "she recalls.
Another award, in the contest Lausanne Prize, financed with Swiss public money and some private sponsorships, led him to the Royal Ballet at the age of 17. He did not come as a student, but as an artist. The second youngest dancer had already turned 20. "In this profession you have to mature suddenly and, although it is a very valuable lesson that serves you in all areas of life, it is also a mentally hard experience," he warns. "Not long ago I faced a fairly dark period in which all those years of doing work that required such a strong mentality took their toll on me. I exploded physically and psychologically and had to stop for six months to dedicate some time, "he says. What the injuries had not accomplished was forced by the mind.
Yudes assures that he has often seen colleagues who have done very well in their schools and conservatories and that, when they arrive at a professional company, they decide that they do not want to dance or lead this kind of life: "They leave it. You also have to have psychological talent to endure in this.