The French artist Christian Boltanski, who died this Wednesday at the age of 76 in Paris, saw his activity as a fight against oblivion and disappearance. His parents – a doctor born in Ukraine and converted to Catholicism, and a Catholic writer from Corsica – conceived him during the Nazi occupation while the father lived hidden in the basement of the family apartment, and the mother pretended to the authorities that they were separated and his husband had fled the capital. He grew up listening in the postwar years to the stories of the Holocaust told by the adults around him, many of them survivors, and in a family that for years lived in a sense of constant danger. He was a child who never got to adjust to school and that some gave up for lost. He found in painting first, and in images and installations later, a way of channeling his "original trauma", as he himself put it, a salvation, until he became one of the greatest contemporary artists in France.

Christian Boltanski: "My trauma is my date of birth"
Interview at Babelia in September 2020.
Bernard Blistène, director of the museum of modern art at the Pompidou Center, told the France Presse agency: "I was sick. He was a modest man. He hid things as much as he could. "Above all, he loved the transmission between beings, through stories, memories. He will remain as one of the greatest storytellers of his time. He was an incredible inventor, "he added.
What interested him were not so much the works of art in use – he left painting at the end of the sixties, after his first exhibition in Paris, in the middle of May 1968 – as the "myths and legends" or the " little parables ", as he said," an ethnology of [sí] same". His retrospective at the Pompidou, between the end of 2019 and 2020, was the culmination of his unique career, his consecration as a contemporary classic, and also a gateway to the general public of his world of elusive images, of family secrets, from the shadows of the past, memory and oblivion. That show was also one of the last major exhibitions in Paris before the pandemic forced the museums to close and also confined their artists.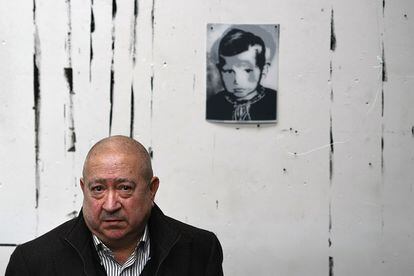 For Bolstanski, the pandemic and the confinements were not a pleasant experience. "The truth is that I am very depressed. Many artists spend their lives confined, but I don't ", he confessed to Àlex Vicente in an interview published in September 2020 in Babelia. "Giacometti never left his studio, except to go to the bistro and the brothel, but I have a great need to be active. Maybe because I am a natural pessimist and I need to fill my time with many things. So I avoid finding myself alone and thinking too much… ".
He liked to leave his studio in Malakoff, on the southern outskirts of Paris, where recently cameras were filming him 24 hours out of 24 in a work commissioned by a Tasmanian collector, his final and definitive creation. In the capital he watched, he talked to other people, he needed it to live, to create. All of this was put on hold with the pandemic. In the same interview, he predicted: "I think we will forget about this virus, because we cannot live without forgetting. Life is so horrifying that if we remembered everything, we would not be able to live ".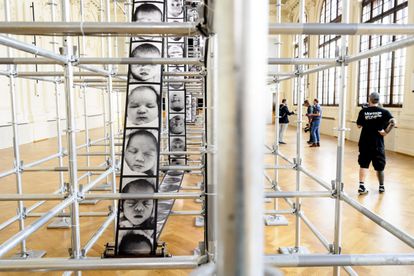 Boltanski, married to artist Annette Messager and brother of sociologist Luc Boltanski, believed that every life contained a book – his family's never wrote it, but his eponymous nephew did. A place to hide (Siruela, in Spanish) – or a work of art. "I am interested in the contrast between the importance of the individual and his inexorable disappearance," he said on occasion. "My activity consists of remembering those who disappear. I always say that everyone over 60 deserves a museum for the simple fact of having lived ".
Among his most celebrated works, many of them ephemeral like the temples in his admired Japan, were large trumpets installed in Patagonia to speak with whales, or the 75,000 heartbeats recorded and stored on an island in Japan. "Naturally, [las ballenas] they never answered, and the trumpets will break in six months, but one day I imagine the Indians will come and remember that a madman came to ask questions of the whales. Myths can last longer than works, "Boltanski told the newspaper in January 2020. The world.
Regarding the heartbeat, he stated: "People go there like on a pilgrimage. I hope that when I am not there, they will forget, but that they will come to listen to the heart of their grandmother ". As if what lasted was not the work, and even less the artist, but what remains when no one remembers who created it, nor that it was conceived, nor that it was art: myths and legends.