The frustration at not being able to photograph the pandemic in Spain as desired, due to the prohibitions to document the drama, and the realization that there was no market to output the work that was being done during the state of alarm led the photojournalist Santi Palacios to shake his group, "who went those weeks like lost souls," he says. Palacios, used to portraying human crises for the world's leading newspapers, wrote to hospitals to gain access, "and the answer was: for your safety, it is not allowed." "It is true that this caught us all new and I can understand the limits, but I think it would have to be used to regulate it from now on."

GALLERY | The great photographic archive of the pandemic
A selection of the thousands of images sent by photographers from all over Spain. A time capsule about what we have lived through
Along with Palacios, others such as Silvia Omedes, Esteban Martinena, Ana Palacios, Anna Aguiló and Clara Soto formed the nucleus of that idea. Later, several working groups were created, one of these contacted "about 800 professionals" from all over the country to invite them to participate in a collective work that would serve "as a collective memory" of a tragedy that has killed more than 92,000 in Spain. people, according to the excess of mortality with respect to previous years calculated by EL PAÍS.
That initiative is called Covid file, a website that, with the support of the University of Alcalá de Henares, will host a good part of the almost 9,000 photographs received from June on everything related to the coronavirus in 2020. Until the launch arrives, the Covid Archive publishes a photo a day on social networksThere are already more than 100, like that of a worker in a residence in Celanova (Ourense) who gives breakfast to Marina, 93 years old and in bed, taken by Brais Lorenzo; that of Marc Sanye of a covid patient face down in the University Hospital of Vic (Barcelona) to improve his oxygenation; the empty shelves of a hypermarket in Madrid that Guillermo Navarro photographed; the Plaza Mayor of Madrid, in black and white and with only one person walking, by Carmenchu ​​Alemán, or one of the last, hopeful, that of the nurse who shows a dose of the Pfizer vaccine, in a nursing home in Asturias by Vanessa Casteleiro.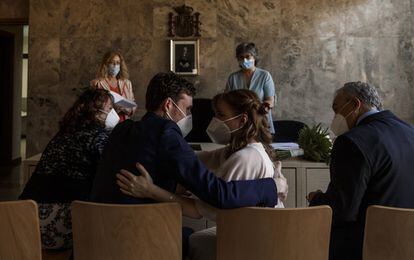 However, the project needed to "incorporate an institution," Palacios emphasizes. The University of Alcalá de Henares has provided technical and archival support that allows the images to be managed and preserved. "There will be a repository with the photographs and we promise that the servers will be working for 10 years. Furthermore, the photographer does not lose ownership of his images, he only gives them over ", explains the Head of the Covid Archive at the Alcalá University, José Raúl Fernández del Castillo.
Why did this institution take that step forward? "A public university should be there when society needs it. We have an archivist profile and the Photography Classroom, very lively, which organizes talks, exhibitions … ", adds Fernández, delegate of the rector for Culture, Science and Cooperation. However, they are looking for patrons, crowdfunding, sponsors… "With the aim of building a useful website for both the citizen and the researcher. The idea is that images can be searched by geographical references, dates, by elements of the image, authors … ". All photos will have captions and links will be placed to the photographers' websites.
The call to accept works, in photography and video, opened at the beginning of December and ended on January 24 of this year. Proposals came in from 388 authors. In total, 9,363 images were collected – in two categories, individual and reports -, of which more than a quarter, 2,538, came from Catalonia. Madrid followed, with 2,085, and Andalusia further away (601). For months, from April (the first complete in a state of alarm) came 3,161 images, followed by May, 1,961, and March, with 1,353. The promoters of Archivo Covid emphasize that "never has an initiative united so many photographers in Spain, who have developed a solidarity work".
Two editors' tables, seven for photography and five for video, have been in charge of selecting the final material – its members could not present works. Among these editors are Silvia Omedes, cultural manager and exhibition curator, and photographer Chema Conesa. On the difficulties that professionals have had in places such as residences, morgues … Omedes points out, via Zoom: "We should have been able to open those doors, but we have to be respectful. A family that has someone in the ICU should be able to say if they allow them to photograph them ". Of the proposals sent, Omedes emphasizes that 23% are from women: "It is wonderful because internationally the percentage of female photojournalists is 15%. It is also a file whose components have a profile markedly freelance, so it will also be a national catalog of photojournalists ".
The University of Alcalá de Henares has provided technical and archival support to manage and preserve the images
This fragile work situation for those who work with the camera helps Conesa to point out another question: what they wanted to see and what they didn't. "News companies need to get ahead by advertising and advertisers are bothered by that kind of image. We are in a well-thought-out society that only wants to show the best image of itself ". Both agree with Santi Palacios that professionals should have been trusted, who know what the limits are and what images could be unnecessary due to their harshness.
Finally, the three recall what issues the chosen photographs have addressed: ICUs and residences, morgues, funerals, photos of confined family life, empty streets, how nature developed due to human absence, tributes to health workers , with applause from the balconies; hunger queues and those who have volunteered to help. Also, the political questions and controversies, the demonstrations and the deniers … All the pieces of the puzzle, of the great time capsule that in the future can be contemplated to get an idea of ​​the horror that was really the year of the pandemic.