When Delacroix had only been in Tangier for three weeks, where he arrived by boat from Algeciras, he wrote in one of his notebooks: "I thought I was dreaming. I had wanted so many times to see the East that I was looking with all the strength of my eyes and could hardly believe what I was seeing ". Delacroix was 34 years old when he began his journey from January to June 1832 through Morocco and Algeria, passing through Andalusia. The artist was in love with the East and Morocco was for him the embodiment of a dream, even though it was the most western Arab country. The Mohamed VI Museum of Modern and Contemporary Art, in Rabat, opens an exhibition on those days this Wednesday, Eugène Delacroix, memories of a trip to Morocco, which will remain open until October 9.
Delacroix had only left France until then to spend a few months in England in 1825. "Like many artists of his generation," says a text in the exhibition, "he had long dreamed of an Orient that had poorly defined geographical limits."
The exhibition, which contains some thirty of his works, including drawings, canvases and lithographs, tries to reflect the influence that those six months of travel had on the rest of his 30 years of life. And also how he conditioned his gaze on that of other painters. "He paints a country of warriors on horseback and wild animals, of street scenes almost out of time," reads another poster.
Delacroix had already painted at the age of 34 many of his most famous works, such as Freedom guiding the people (1830), which symbolizes the triumph of the revolution against the Old Regime; Dante's boat (1820), the The massacre of Chios (1824). He was the star of the French art scene at the time of his trip. "He was the first painter of his category to travel to the East," explains Claire Bessede, Paris director of the Eugène Delacroix museum and curator of the exhibition. "And his gaze guided the interest of other European painters. It was not a contemptuous or pre-colonial look ".
"Delacroix liked violence, movement, although his life was quite calm and he limited himself to working on his paintings", explains Claire Bessede, curator of the exhibition.
The color that marked him during his trip, according to the exhibition's curator, was white. And that same clear light seems to spread over a dozen paintings, present in the last part of the exhibition, which came from the hand of artists such as Matisse, Constant or Camoin, also subjugated by Orientalism.
Delacroix had been invited to accompany the Count of Mornay during a diplomatic mission of King Louis Philippe I directed to Sultan Moulay Abderrahman. He was not commissioned to paint anything, but he was filling his travel notebooks with notes, as he bought the most diverse objects. The exhibition also includes several of those acquisitions that would serve as inspiration for the rest of his life: musical instruments, swords, djellaba, boots, leather bags, vessels, vases … The first thing that appears when entering the exhibition is a chest that He was accompanying him through the different apartments in which he lived in Paris. From that trunk he took out the objects that, once macerated with memory and imagination, would permeate the atmosphere of his works.
His paintings are not a mere reproduction of what he saw. Copying reality made no sense to him. In his diary, which is in the Louvre museum, but can be seen in the exhibition on large television screens, he wrote: "The whole visible world is just a storehouse of images and signs to which the imagination grants relative place and value. It is a kind of food that one must digest and then transform ".
Five years before he died, in 1858, he painted Passage of a ford in Morocco, on loan from the Louvre for the exhibition, where you can see several armed men on horseback. "Delacroix liked violence, movement," explains the curator of the exhibition, "although his life was quite calm and he limited himself to working on his paintings." And a few months before he died he painted Arab skirmish on the mountain.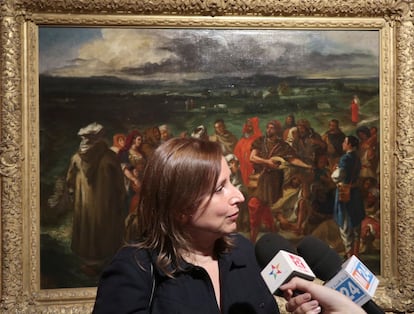 What correspondence would there be between that "Eastern" Morocco that Delacroix painted and the real Morocco of two centuries ago? "It is very difficult to restore the gaze of an artist", assumes the director of the Museum Mohamed VI, Abdelaziz el Idrissi. "He was not a documentary maker. But it is clear that he had the opportunity to enter the houses of Morocco. He was imbued with the local culture. He was closer to reality than others. But did it reflect reality or rather what he loved? "
The president of the National Foundation of Museums of Morocco, Mehdi Qotbi, stressed this Tuesday, in the presentation to the press, that it is an honor to host Delacroix in Rabat almost 190 years after his trip to Morocco. He clarified that the show arrives with a two-year delay, due to the pandemic, and with some works less than those initially planned, since the agenda of several institutions that were going to provide various paintings were also altered by the health crisis. "But finally, we have been able to open after the pandemic. And offer this exhibition to all who visit our country this summer ". Qotbi praised "the democratization of art" in his country.