With all certainty, history will be unfair with José Pedro Prados El Fundi (Fuenlabrada, Madrid, 1966), a bullfighting scientist, a skilled encyclopedic, who would have been a period figure if he was born in the times of brave bullfighters and bulls. fierce. But it has been the living embers of the most authentic party; possessor of a prodigious intelligence in front of the bulls, which left evidence of his vast knowledge, and, without being exquisite, he is one of the bullfighters who best symbolizes the symbiosis between classical fighting and modern bullfighting.
Retired from the bullring since 2012, he is the director of the José Cubero Yiyo bullfighting school in Madrid and president of the Union of Bullfighters. Sitting on a stretch of Las Ventas, while his students train in the ring, El Fundi, who presents a physical appearance ready to do the walk if he proposed it, reviews with overwhelming sincerity a professional career of 25 years in which the vocation and effort has prevailed over glory.
"In this square I said goodbye to the profession, and at that time I considered that it was a wise decision," says the bullfighter. "I had completed 25 years of alternative, I was not in my best professional moment, it was difficult for me to hire good runs, and I left."
"It took me a long time to achieve the recognition of the fans and I suffered for it"
Question. But he did not leave satisfied …
Answer. "The truth is, no".
P. Do you think you achieved the recognition of the fans?
R. "Yes. It took a long time, and I suffered for it. I came to think that my moment would never come. When I heard colleagues say that this was the most beautiful profession, I did not see it that way ".
The Fundi discovered his vocation in the confinements of his town, and he says that in the beginning "he was a funny bullfighter, with class and a natural touch; I had my well-defined personality in that aspect ".
After a good year as a bullfighter with horses, he was not able to pass the exam in the important places, and he retired. He says he didn't see it. He spent a year and a half outside the arena, took advantage of that time to do his military service, and, dressed as a soldier, he recovered the lost illusion. Fifteen days before his degree he reappeared at a festival, fought a bullfight and then took the alternative in Villaviciosa de Odón, on September 22, 1987, with Joselito as godfather and José Luis Bote as witness.
"And there began the harshness," says the bullfighter. "I started from scratch and fought through the towns with little-known irons; until in 1989 they offered me an opportunity in Arles, with a bullfight by Lloret, who was an 'aunt'. I cut off an ear and the businessman compensated me the following year with Miura's, and I succeeded. That's where my future began ".
After that bullfight, El Fundi goes to all the French fairs and with the hardest bullfights.
"I had no alternative; besides, I felt strong and psyched up ".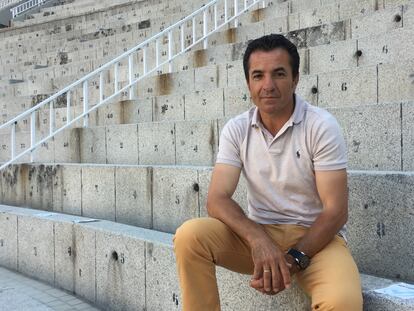 P. It has been written that in the neighboring country you have been 'captain general'.
R. "Well, let's say that France has been more important to me than any Spanish square, including Madrid. There I felt very recognized in the artistic and economic aspect. There have been years in which I have fought more in France than in Spain. While there they offered me money and category, I couldn't get into the first Spanish fairs ".
P. His has not been an easy race.
R. "Not; rather it has been difficult. Perhaps, also because of me, because I have sometimes been a conformist ".
P. But did you reach the proposed goal?
R. "The goal, no. I think I could have gone one more step ".
In any case, El Fundi recognizes that his life changed as of 2005. He realized then that the fans expected him and the businessmen respected him.
"There I began to see that the effort was worth it. The media talked about my class and depth and not only considered me a fighting bullfighter. I could choose and not settle for what the companies offered me, and that filled me with satisfaction because I had never achieved it. I was very fond of it, I dedicated myself to the profession in body and soul, and did nothing but prepare to fight, but it took me a long time to achieve general recognition ".
"France has been more important to me than any Spanish square"
And when he was collecting the sacrificial honeys, back in 2008 and 2009, the fall of a horse, when he was participating in a harassment and demolition task, broke all his plans.
"It was a very hard mishap, and I did not know its true scope until later," recalls the bullfighter. "I lost the mobility of half my body, I was taking a strong medication and I insisted on reappearing as soon as possible so as not to lose the contracts already agreed. I thought then that the fall from the horse was just another accident, and it was not. My wife, who is a pharmacist, explained it to me, but I didn't pay any attention. He wanted to fight at all costs, although he did it half drugged, so as not to lose the possibility of promotion. It had taken me so much work to get there … "
And he returned to the arena on June 14, 2009, just a month after the accident. And the catches and visits to the infirmaries followed one another.
"The tremendous physical and psychological effort of that year 2009 I paid for the following season. I won a few fights and was about to throw in the towel, but it was not the time to retire ".
P. What has he left to achieve?
R. "Stay at the level of the year of the accident with the horse and leave when I wanted and not pushed by the circumstances. I didn't leave when I wanted to, but because I understood that my career had no further path ".
Curiously, El Fundi was a prophet in La Maestranza, where he was slow to go, and he repeatedly triumphed with the Miura and Palha bulls, but he has a thorn in Las Ventas.
"Yes, not having left through that big door that we have there next to it… It must be very nice, but… I haven't had a full, round afternoon in Madrid either. In recent years, with a bull by Adolfo Martín, I noticed that the public was very devoted to me, and not so much because of what was happening in the ring that afternoon, but because of my passage through this square. I have not experienced that afternoon of triumph, but I did experience the recognition of the fans ".
A monument in his town reminds him that he has been an important bullfighter; And if that were not the case, his mother, who is now 84 years old, would be his most faithful supporter, who has attended all the celebrations in which he has participated since he debuted without horses; a dedication that he shares with two other bullfighting sons, Ángel, a retired junior, and David, an active picador.
"I have been, above all, a sincere and dedicated bullfighter," concludes El Fundi. "Very transparent, with trade, resources and also with class, although this condition has been recognized to me less and for a short time because I was not able to maintain it anymore."
As he watches the school pupils' cape and crutch rehearsals, he emphasizes that he is a proud director. "I like to see how the 80 enrolled kids grow personally and professionally, and I try to make the training they receive serve them, as it served me, as it was the basis of my career."
P. And he still has time to preside over the Union of Bullfighters …
R. "I thought it was my responsibility after twenty years as a vocal. Perhaps we lack a socially significant voice, but we are involved in all the affairs of the sector. Unity is not easy in a sector where individualism and competition prevail, but when problems are analyzed honestly and seriously, we are all on the same path ".
P. You can be seen to be a happy man.
R. "Yes; I do not know if happy, but I feel fulfilled. I feel useful in school and in the Union; My family is settled and in balance (I have two children, José Luis, 20, who is studying industrial engineering, and Carolina, 17, who will start a pharmacy), I enjoy the countryside, I ride horses and I am very involved with the cattle ranching of my father-in-law, José Escolar. I am not bored ".
Follow us on Twitter.