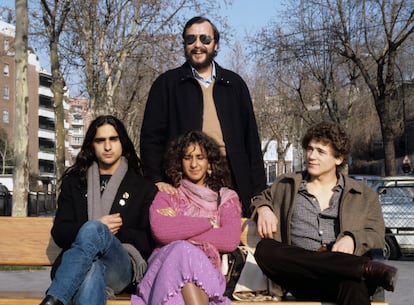 This is a history of love. And addictions, drugs and people. It is also a story of cinema and of a part of Spain pushed into the sewers of history by the official version and its cultural creators, who hid very different visions of what was happening behind the scene under the label of cinema quinqui. It is, above all, the story of a tormented, toxic and passionate relationship, that of the director Eloy de la Iglesia and his fetish actor, José Luis Manzano. Together they rolled Navajeros (1980), Colleagues (1982), Peak (1983), Peak 2 (1984) and The Vallecas pond (1987). They met in the fall of 1978 at the door of the Billares Victoria, in the center of Madrid, where kids from the suburbs offered themselves to gays for money; The actor died in the director's apartment of a heroin overdose on February 20, 1992.
In between, a drama and two lives, illustrated by Eduardo Fuembuena from Zaragoza in Far from here, a self-published book that is under development to become a television series. Eight hundred pages that radiograph that love / hate, map the Spain of that decade, and reproduce each conversation thanks to the 10 years that Fuembuena has dedicated to research. In 2017 he published a first version of the book, which has now been 70% rewritten, in order to ensure the accuracy of the facts and the material provided by new sources on the relationship between De la Iglesia (Zarautz, 1944-Madrid, 2006) and Manzano (Madrid, 1962-1992).
Fuembuena studied at ECAM, the Madrid community film school, where he met De la Iglesia once. "I remember that out of curiosity I went through the door of the class where he was giving a talk and there was a moment when our eyes met," says the filmmaker and writer. He was already attracted to his cinema, he had not yet made that story the story of his life. "My book has been an act of necessity," he reflects. Today he is part of the second promotion of the Film Academy Residences program, where he is developing, tutored by Agustí Villaronga, a television series focused on this love. "Because I always had an audiovisual intention to capture this passion."
In the book De la Iglesia he explains: "When I write, I always assume a neighborhood cinema as a destination reference. What I tell must reach the largest possible number of viewers; the author is a term that I despise as a Marxist ", and Fuembuena adds:" His films are covert autobiographies ". By the late eighties, the director had already made a name for himself as a filmmaker with films such as Forbidden love games (1975) o Deputy (1978). Stuck in the pre-production of a drama about José Joaquín Sánchez Frutos, El Jaro, A precocious delinquent and popular myth after dying in February 1979 at the age of 16, De la Iglesia remembered a beautiful boy from Vallecas who took money from time to time with his body. It was José Luis Manzano, who they called Orthopedic doll for the harness that he wore for a long time to heal a serious back injury.
And so Manzano went from the UVA (housing provided by the State) in Vallecas to the house of De la Iglesia, who paid him an education and prepared him for filming. They began a passionate romantic relationship, which the boy combined with several girlfriends, and the filmmaker, master of explicit images, with other suitors. The premiere of Navajeros It turned Manzano into the great face of that genre of cinema, which Fuembuena prefers to call "lumpen poetry" and which was coined as "quinqui cinema." A film corpus "produced by the clash between a materialist Basque Marxist with a humanist education and an adolescent from Vallecas with a broken family." José Luis Fernández also made his debut in that film, Pirri, another myth from the eighties who died of an overdose. "As Diego Galán said, they were chronicle films with a commercial flair".
Manzano's career is the perfect exemplification of what could be and was not. His sentimental and professional relationship with De la Iglesia, in which in stages one was parasite of the other, engulfed his professional career. She only worked with him (she only had small roles in two other films). It was a monument of authentic, natural acting, without posing. His talent was cut short by a one-year hiatus while in the military and by his addiction to drugs, a hook he shared with his mentor. "The weak character of José Luis always made him depend on someone", is told in the book, built in the Anglo-Saxon way of biographies: a lot of research, more than a hundred voices, a novelized story based on abundant sources. This is how we witness the triumph of De la Iglesia's cinema, despite the opposition it encountered from creators from the PSOE. The best example is that after The Vallecas pond He was without directing for 16 years. He returned in 2003 with The Bulgarian bride and groom, already with the PP in power (he left 47 unfilmed scripts in various stages of development). It was a cinema that found its audience, that went to festivals such as San Sebastián and that in return received furious attacks against journalistic criticism.
On Far from here there is also squalor, moral and physical rot, and a skillful reconstruction of the cinematographic, political and social fauna of the time. Heroin (and the subsequent arrival of AIDS) ended up destroying generations. After The Vallecas pond, From the Church, to disengage, he throws Manzano out of his world, who relies on a priest from Getafe, Pedro Cid, who is fighting to rehabilitate kids like him. For this reason, the actor's face appears in a mural about the Last Supper in the Getafense church of Our Lady of Fatima. He found a job as an assistant in a production company, but he was fired for stealing material from them and selling it to pay for the drug. Sunk, he ended up robbing a pedestrian on Gran Vía and entered the Carabanchel prison to serve an 18-month sentence.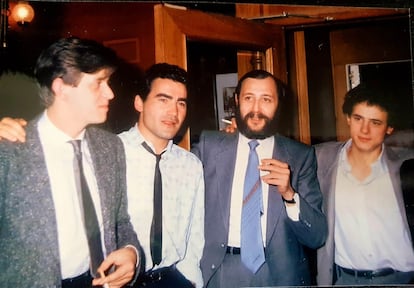 Upon leaving prison, Manzano entered a new detoxification treatment for two weeks and looked for De la Iglesia, who was dragging himself from floor to floor, without raising any project, although supported by Juan Diego and Juan Antonio Bardem, old comrades in struggles. communists. "The film industry in Spain was diluted in those years and only projects subsidized from the State were filmed," explains the writer. Manzano sneaked into De la Iglesia's house on February 18, 1992 and two days later, when the director woke up at six in the afternoon, he found his ex-lover in the bathroom, dead from an overdose. "It is a story of disappointment," summarizes Fuembuena. "From the Church, a convinced Marxist, as regards the ideological and the cinematographic. Manzano, in the vital, because he had touched a dream that slipped through his fingers. He learned to live through the cinema ".