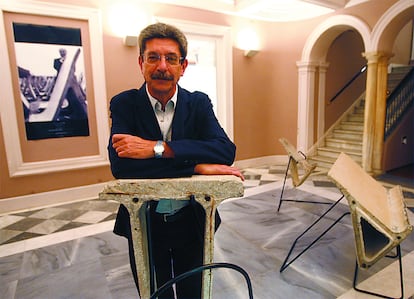 This morning Juan Bosco Díaz-Urmeneta died at the Virgen Macarena University Hospital in Seville, at the age of 76. Professor of Aesthetics at the University of Seville, writer, art critic from EL PAÍS, exhibition curator, lecturer, Díaz-Urmeneta has been an irreplaceable teacher for many, both in life and in art.
They called him Muñoz (after his uncle Muñoz Seca) and also Díaz de Urmeneta (after Antonia Díaz, on whose street and in whose house he was born) to remind him, in times of the Reds, that in addition to being a prince of the Church, a working Jesuit as he was, his family belonged to that noble branch of names that are part of the history and nomenclature of cities, of countries. But actually everyone knew him as Bosco, our Bosco, with a mind as fertile as the 16th century painter and infinitely more open-minded.
Juan Bosco Díaz-Urmeneta has just left us, a key man in the arts and culture, collaborator of EL PAÍS and other media, such as Seville newspaper, and an indispensable name in that Transition that some idealize and others deny. Someone who has done a lot for his country, someone who has doubled, tripled, carried to infinity the denarii he inherited from a cultured, traditional, conservative family. Several generations of artists will mourn his disappearance today – which even if he had reached 100 years would be premature – several generations of students, trade unionists, friends will be wounded by lightning this Thursday.
Some left before: his friends Paco Molina and Paco Cortijo, his inseparable Pepe Soto, Manuel Salinas to whom he dedicated one of his last farewell reviews. For others, like Carmen Laffón, the dear friend and that person who understands his art by transcending it, who makes it possible for creation to have someone who looks at it, values ​​it, lives it. Hundreds of painters owe him their support and never cruel criticism (it is interesting, he used to say), several generations of students, many journalists, must have learned that the aesthetic word is a direct daughter of ethics, of philosophical harmony, of equanimity and compassion.
It leaves a black hole of emptiness and pain where its universe shone, so rich, so curious, so kind. That smile of his shielded against adversity, protected by his wife, Concha Llanos, a companion of life and of battles since their memory reached them. At last you will be able to hear some sarcastic comment from your intimate Vázquez Parladé, both class traitors, communist aristocrats, always consistent, never self-indulgent, anti-Franco, of the line to whom so many owe, we owe, democracy, conciliation, the incorruptible seriousness of their ideas and their lives.
In the futile bonfire of vanities there is no street or avenue or square that does not deserve the best of the names of the best of men: most incorruptible faithful, loyal friend, intellectual of solidity in ideas and permeability in affections. He loved light so much that —ay, Bosco — that is why he did not hesitate to escape the darkness of the dictatorship, to flee from any nonsense, to distrust stony doctrines and true truths. Never has anyone with such strong convictions understood so much the weaknesses of others, the contradictions, the miseries that make us luminously human.
There are many authorized voices that can and should highlight his enormous human and intellectual quality: from the art to which he belonged, to the unionism that owed him his commitment and also some reading (his friend Juan Antonio Florido pointing out the names of poets after the rallies of the years seventy). To Marx from Hördelind, to Zobel from the sunsets of Isla Cristina, to Derrida from a soleá by José de la Tomasa. We citizens owe him never to settle, to never seek applause or flattery. From no one. Not even of those he loved the most, of whom we loved him so much. Of those who do not understand our best version without having known it.