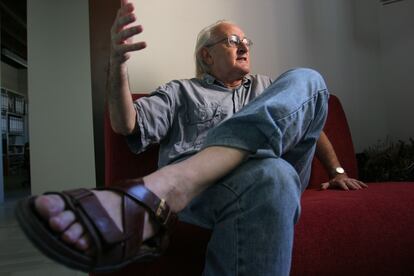 Last May, a fire destroyed more than 50,000 books in the Proteo bookstore, with more than 50 years of history in Malaga. The accident was not, however, the worst news of 2021 for one of the cultural lighthouses of the city. Its founder, Francisco Puche (Antequera, 1940), died this Friday at the age of 81, as announced by the director of Proteo, Jesús Otaola. Editor, writer, bookseller, ecologist and activist, his legacy is uncountable in the capital of the Costa del Sol. "Today our books cry and the great history that we have as booksellers is orphaned. We owe him what we are, the pride and love for the culture for which we have fought so hard ", they have underlined from the social networks of the cultural establishment.
The Antequera founded the Prometeo bookstore in 1969 after studying economics. He did it with the appearance that it was a place dedicated to children's books, but it was nothing more than a facade to overcome Franco's censorship. He introduced books banned by the regime that came to the city addressed to the Proteo bookstore. "If when he went to pick them up there was a policeman or someone asked him, he only said that his bookstore was Prometheus and that it was not for him," recalls Jesús Otaola. He never had a problem with the system that allowed him to smuggle issues and themes to Malaga that could not have otherwise reached the city. In 1975, after Franco's death, the business was renamed Librería Proteo.
"He was a socially committed person, a convinced ecologist and always ready to help social movements. We will miss him. We will continue reading and studying as he always asked us ", has written the Minister of Consumption, Alberto Garzón, on Twitter. In the bookstore, cultural projects have been created, agitated social movements and defended, a lot and with an optimistic vision, nature. He dedicated part of his life to denouncing the risks of asbestos —especially in schools— and was also one of the promoters of the Malaga Book Fair. Many of his publications as an author are related to environmental protection and criticism of power. Part of his ideas and adventures are reflected in A bookseller in distress, published in 2004 by Ediciones del Genal, an editorial that he created.
That year Proteus took a step forward. During the renovation of its headquarters on Puerta Buenaventura street, it recovered and integrated into its interior the old Nasrid wall of Malaga. The initiative also served to receive several awards related to architecture. Before, in 1998, Puche was recognized as bookseller of the year by the Federation of Publishers Guilds of Spain and in 2017 the Spanish Confederation of Booksellers Guilds and Associations – he himself promoted the creation of the entity at the end of the 70s of the century. past – awarded him the National Prize for the best Cultural Bookstore. Today the project is going through one of its most delicate moments after the fire that devastated more than 50,000 copies and that has forced it to move, temporarily, to a nearby location on Álamos street. Irene Vallejo, Rosa Montero, Antonio Soler, Javier Castillo and María Dueñas have signed books there in recent weeks as a show of support.
His death comes just one day after the citizen platform Todos con Proteo announced the celebration of a solidarity concert at the Cervantes Theater in Malaga on July 28. Those of Javier Ojeda, Tabletom, Elphomega or Julia Martín will be some of the voices that will be heard in an event that aims to "channel the spontaneous solidarity that emerged from everywhere after the bookstore fire to achieve tangible and useful benefits for an institution secular and fundamental culture in Malaga, which now needs practical support as well as emotional gestures ", according to one of its promoters, Héctor Márquez.
"A bookseller never closes from life. His story does not have a last page. There is always a new one whose vocation is to make a map, a trip, a compass, a bird in one's hands from reading. Thank you always Paco Puche ", added Guillermo Busutil, recent National Prize for Cultural Journalism. "With Puche not only a bookseller leaves, but a decisive agent in the recent history of Malaga and in its articulation and recognition as a cultural city", the Malaga journalist Pablo Bujalance.