It was a miracle that the crew of the cayuco decided to turn around without knowing that what they had ahead of them at that moment was nothing more than the immensity of the Atlantic. An almost certain death. After two weeks of crossing, they had seen some points of light, but at first they decided to continue later because they thought it was not the desired destination. Fortunately, they finally turned around and headed there: they were the last remnants of civilization. They had surpassed Gran Canaria and Tenerife, the main targets to which they thought the currents and the stars would lead them, but accidentally the 24 Senegalese appeared on La Palma. It had been more than six years since a boat with emigrants had arrived on that island.
Half a year later, seven of them climb onto the stage of the theater to recall in a simple but forceful play the event that has brought them to Europe. There are no dialogues between these three farmers, three bricklayers and a cabinetmaker. Nor does it need to be done for the viewer to get the idea. After a few brief preparations for the expedition, everyone embarks on a colorfully painted wooden boat that takes center stage. The soundtrack is starred by a musician with his kora, a traditional instrument from the Senegal and Mali area, among other countries. In the middle of the gloom, the crew members alternate simulated conversations, fears, prayers, songs, vomiting …
Fran Pedrianes, actor and theater teacher, has directed Touki Bi, which means the journey in Wolof league. It has been represented four times, always ending with a discussion between the audience and actors that has served to amplify the message. The last performance took place on Wednesday of last week at the largest theater on the island, the Circo de Marte. Some 150 people attended a restricted-capacity session due to the pandemic. Pedrianes is aware that it is nothing more than a "little piece" played by neophytes, but at the same time he remarks that he has had the protagonists of "a story that is very powerful" together with him.
"It is important for society in general that they are known not as numbers or percentages but as people"
"Theater is useful to empower and integrate. Its tools are used for marginalized social groups to gain self-esteem ", explains the director of the play. This is how the weekly Tuesday classes with Senegalese migrants have borne fruit over the months in taking this work one step further. They alternated that workshop with their learning of Spanish or that of a trade such as organic farming or carpentry. Everything was part of a process of integration among a population much less accustomed to the arrival of boats than that of the eastern islands.
The objective is that "there is a real integration and that the people here know them from you to you and know why they have come. It is important for society in general that they are known not as numbers or percentages but as people ", thinks Charo González Palmero, Councilor for Culture of the municipality of Los Llanos de Aridane and one of the promoters of the theater workshop. The experience of these new residents of the island has also led to the leap to various institutes in which migrants have been able to maintain contact with students.
Contact with students
"They have been able to open their minds to situations of inequality that they are unaware of because they live a parallel reality in social networks and when they are witnesses they are surprised, affected and moved", acknowledges Nieves González, professor of Geography and History at the Eusebio Barreto institute of that municipality. The two-day visit to the Senegalese youth center "has been important for them to reflect on how to welcome people who arrive," adds the teacher. He insists that the children have to understand that the Canary Islands are a traditionally emigrant people to which people from outside such as this group of sub-Saharan Africans now arrive.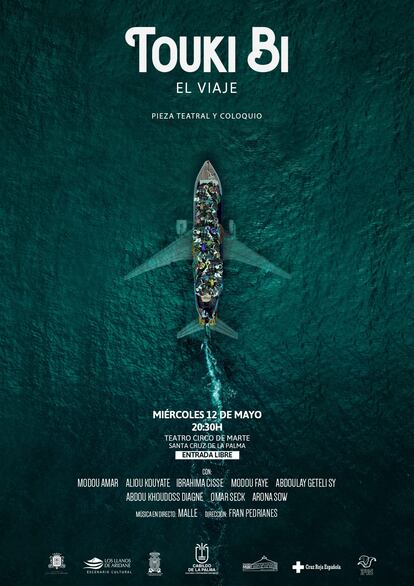 The cayuco set sail from San Luis de Senegal on August 23, 2020. It arrived, almost by chance and by a miracle, on the westernmost coast of the archipelago, the coast of Tazacorte, on September 6. Since June 30, 2014, an expedition with emigrants did not appear on La Palma, of about 83,000 inhabitants. Of the 24 crew members, only 12 were able to stay on this island, which only has a Red Cross reception center with this capacity. "They stayed in La Palma in dust, thinking that they would not be able to leave here," acknowledges councilor González Palmero. "At the beginning, those who went to the center of Las Raíces de Tenerife, a large island with more possibilities of making the leap to the Peninsula, left happier. And look, in the end it was the other way around ", he says, referring to the experience he had.
"The hardest moment was when we got lost on the way. The happiest, the arrival on land ", summarizes through a videoconference Khoudoss Diagne, a 26-year-old bricklayer from the Senegalese town of Touba. This student from the workshop tells that, along with other candidates, he traveled to San Luis, where with the help of local fishermen they organized an expedition that they carried out without the intermediation of mafias to which they had to pay any ticket.
"They began to suffer states of madness and fights. Several wanted to jump into the sea … and suddenly they saw it as an island, but they saw it very small "
In the most delicate moments they appeased the clashes that arose on board with the prayers to Allah, explains Aliou Kouyate, 31, from the capital Dakar. He worked as a bricklayer and cabinetmaker, manual jobs that find it increasingly difficult to accommodate in the productive system, he points out, so he could not earn a living. All the interpreters of Touki Bi They are now asylum seekers, although being economic migrants it will be difficult for them to obtain refugee status.
Fran Pedrianes has been completely touched by living with these Senegalese students. "On the seventh or eighth day, following the stars and currents, they caught bad weather and got lost. On the tenth day they ran out of food and water. The thing began to take on drama. They started drinking sea water, "he says. The collected stories served the teacher to spin the argument. "They began to suffer states of madness and fights. Several wanted to jump into the sea … and suddenly they saw it as an island, but they saw it very small and decided to continue. After a few hours, they saw that something was wrong and decided to turn back, because there was a little gasoline left. That islet was La Palma. If they had continued, they would have died for sure ".
"After the storm comes the calm", thanks hopefully Aliou Kouyate. He is already thinking, after eight months on La Palma, about his new life on the Peninsula with his colleagues. This Friday they landed in Madrid. In this way, they have won one more battle to fate, but the work Touki Bi it will surely have lost the one of its next representation. Pedrianes finds it difficult for these seven Senegalese to return to the stage to tell their adventure, but he is convinced that both parties have sown and collected thanks to the theater. The Councilor for Culture, Charo González, takes stock with some regret: "Here we are left with the feeling that people have passed by and that we have treated them as such."