On June 10, 10,000 elite racing pigeons left the Algarve in Portugal to participate in a speed competition. They had to cover about 500 kilometers to reach Porto. A storm diverted dozens of them, disoriented. They ended up appearing exhausted in houses in Galicia and Asturias, places where they detected food or dovecotes. One of them ended up in a house in El Escorial (Madrid). With an identification ring on one leg, docile and meek, the pigeon was immediately baptized as Boris ("he was male, and clearly a spy") by the inhabitant of the house, Luis Baylón (Madrid, 63 years old), one of the photographers most important in Spain. "A homing pigeon is extremely intelligent and has an impressive orientation. He located me because I have a feeder and a nest of pigeons, he saw that there was a good atmosphere there, "says Baylón, who publishes the photobook Madrid in silver (Lafuente Archive). She was with him for 10 days, calm and at peace. He fed him lentils, rice, everything. "He has gained strength and has gone away! Marvelous. She had me excited, I miss her ". When the Portuguese pigeon racing federation responded to their calls, their concern was only whether the pigeon had eaten. "Damn if he ate," the photographer told them.

PHOTO GALLERY | Madrid in silver
A selection of the best images of Baylón's portrait of Madrid in the eighties.
In 1975 a storm also diverted the course of Luis Baylón. He belonged to a good family that spent the summer in Baiona, the exclusive destination of the Rías Baixas. His mother died in a traffic accident. He left a widower and four children. Days later, the little boy, Luis, got into a fight with his father. He was 17 years old, had a scooter and the money he took from his mother's hair salon, 10,000 pesetas. He went with the scooter from Madrid to Denia, and from there he crossed the Mediterranean to reach Ibiza. He appeared alone on the island "with pasta in his pocket and a hashish stance." He lived first in a pension and then with friends that he quickly made there.
Question. And the problems began.
Answer. They didn't start, they came. The horse [heroína]. Many people came there from Holland with the sugar, the pico. I was hooked for 20 years. Open that book, it's a gift [Baylón ha traído Tarde de toros, su primer volumen de fotografías]. It is from 1996. I do this book when I come out of the bottom of everything, from hell.
Baylón, a strong man of medium height, wears a white low-necked T-shirt and black shirt, thick-rimmed glasses. Drink beer ("it's not hours, but it's not long now"). You have just been vaccinated against covid-19. He always walks with his camera, a beautiful Rolleiflex with whom he has just made the book that motivates the interview. A street work that runs from the eighties to the present (1984-2017), a set of black and white images that raise an impressive tribute to the city in which Baylón lived and died several times. The people of Madrid, the vagabonds of Madrid, the posh people of Madrid, the common people in the streets, parks and public transport. "This camera has a roll. What he has given me is a lot of empathy. People are not afraid, they see them as nice, "he says, explaining, with the book open, how he was taking each of the photos.
P. But you start taking photos as soon as you arrive in Ibiza.
R. In a Dutch multinational that took photos of students and classes, groups of students … I have always worked. And always taking photos. For 20 years I combined it with addiction. Putting on heroin, when you're hooked, is one thing you have to do. You have to breathe, you have to eat, you have to inject yourself, there is no more. You can't not do it, it just becomes part of you
They left the island because "the Brazilian" who "brought them the brown sugar [heroína]". "We all left. There was a lack of control monazos on the island. I ate a monkey for a week, I didn't even know what it was ". Upon arriving in Madrid, he verified that there "was all God in the wave". "The people I smoked with always cost, I was already with him horse. That it was great, very strong. It was packed in bamboo furniture, in some containers. And it was put in by hard-core people, the high bourgeoisie, the children of good families. Very elitist. That nonsense about we are special, others do not have access to this, and that shit about we are all in the wave, we are very cool, the rest do not know anything, the Stones, Lou Reed … A fucking ruin. A fucking massacre. Has died of our Basque 80%. Two women of mine have died. My daughter's mother died. The woman I was with for 14 years died. I have HIV. We fell like flies.
P. And he did not stop working.
R. I was a father when I was 20 years old. Here they were all doing the farBut I had to pay bills and feed my daughter and pay for school, and I couldn't be fooling around either. My life was work and work and work. I was consuming, of course, but I was leading my life. I controlled quantities because you don't have another, and because if you don't control them you get very sick.
P. It came out in 1996.
R. Facing all the people. But if you don't get off the hook looking into people's eyes … With determination, with will. You have to face it like that, because if not, you have it pinned. If you do it outside of your scope, what will happen when you meet them? You have to be able to face your demons.
P. How long did the last monkey last?
R. One month. A month without sleep, horrible, smelling of sulfur; to things, really, hellish. The stench that was perspiring was unbearable.
P. Did you have someone's help?
R. The love of my daughter and my wife, and photography: I had things to do. Love and work, friend: do not miss them.
The title of Madrid in silver "Sums up the meaning of its content: it wants to be a tribute to the more than 30 years walking the streets of my beloved Madrid, but with a different, unpublished perspective, and it is also a tribute to the negative, to the silver gelatin that has lighting the illusion of capturing reality as we see it. In turn, the expression 'to speak in silver' is, as you know, to say things clearly, to call them by name ", writes Baylón in the book. "I keep the passion", he says in a cafeteria on Madrid's Gran Vía, "the taste for the magic of the laboratory. And now more than ever because I have the best laboratory I have ever had, and I enjoy it more than I have ever enjoyed ", he says about the craftsmanship of developing. His first camera was a Canon FTb. "One day an Argentine colleague came to my house and told me that he had broken up with his girlfriend, that he can't take her anymore, that he has a camera and if I didn't mind buying it to be able to pay for the ticket to Buenos Aires. I bought it for him just to do him a favor ".
I made loads of album covers. I worked. I have always lived off the commission (…) But with digital and all the stuff, it has gone to fuck.
P. But.
R. I had made peace with my father. Crying both on the phone, "I love you very much", "I love you more." A show. I asked him to enroll me in a photography school that was on the street of República Argentina. It belonged to the Fierro family, and also to Jordi Socías. It was when I fell in love with photography and began to see exhibitions by Bernard Plossu, by Javier Campano, I was also [la revista] New Lens.
P. He liked it.
R. A lot of. Because the cinema drove me crazy and I saw the magic of the image, and I wanted to go out and also use the mechanisms of the camera to control the photos. You had to know what you wanted to do and get it with the machine. I believe that today the machine is being developed, but not the photographer. The photographer has to know his tool and technique very well, and know what he wants. It is so. We are beginning to see how the machine sees and not how we see.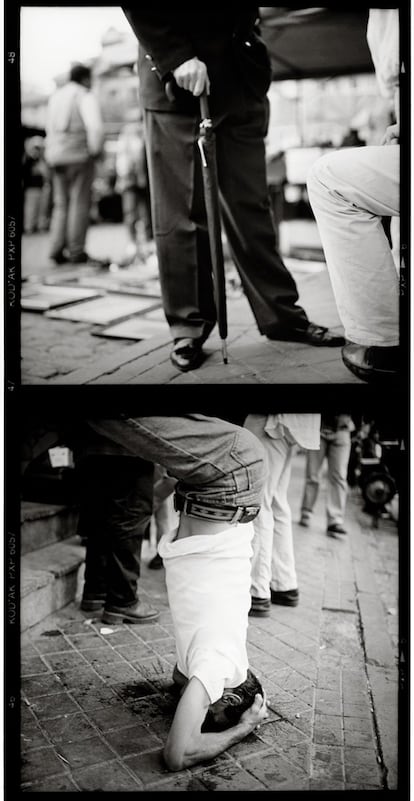 P. "Natural photographer", is defined on Instagram.
R. The photos that we all like are those that are taken without us noticing. What I try is that the photographed does not realize that things are as they are, to say "this is what it is". I have spent three years working. I have had time and I have not had a job. Then came the pandemic. But I was very sick of before. Since 2014 things have started to go wrong: you show up for competitions, you show up for projects and nothing comes out, and you end up depressed and on top of it without a penny.
P. Why are you out of work?
R. The digital thing, for example. I made loads of album covers. I worked. I have always lived on commission, I don't go to a gallery; I am a man of action, I am not a man of pose. The little money I have made since 2014 has been from sales, from work, from my faithful. But with digital and all the stuff, he's gone to hell. Suddenly, where I charged 4,000 bucks to do a report or to make a cover, or to promote any group, they don't want to give you even 500. And all this comes up. boom that everyone is a photographer and prices are lowered and the offer multiplies and here no names or anything are worth anything.
P. I read in an interview with Alberto García-Alix that you and he lived together in the Calle de Relatores in Madrid, and were thrown out of there. He was a great friend of hers. You haven't mentioned him in two hours of conversation, do you have a relationship with him?
R. No. We have withdrawn the salute for years.
P. Why?
R. There is no why, but a series of them. Time has been poisoning everything until this situation, in which we do not even greet each other.
P. They shared a friendship but continue to share a job, in which they are two references.
R. I understand photography in a way that is the antipodes of his speech. I'm not interested.
P. What are those speeches?
R. It is complex to explain. And since it is not possible here, I will say that I like the innocence and the unexpected compared to the intention and the calculated.
Writes the photographer in Madrid in silver: "What is proposed here is not the classic game of showing isolated images that are made to dialogue a posteriori, but to let the sequence speak, those two or three photos that appear in a row on the reel, thus letting chance express itself, letting us discover its cadence, that meaning it brought, without us realizing it ".
Baylón prefers not to continue talking about the matter ("it is long, difficult and unfair to deal with it in a short space"). Finish the beer and go outside. It is terribly hot. Gran Vía moves away, loaded with the camera, through a city that, he says, he begins to not recognize. "I got tired of her four years ago," and she goes away.