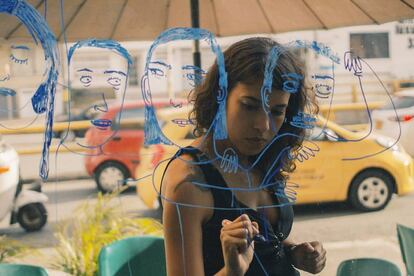 Mariela Pabón (Puerto Rico, 1991) is a Scorpio, with a rising in Cancer and a moon in Scorpio. This could mean nothing or imply that the artist was born ready for intensity, creativity and mental movies. "I have many planets and signs in the fifth house, which is a very fun house, that of artistic expression," she says in a video call from San Juan and laughs, "I'm happy, I was born at the right time." His history corroborates this: he is less than 30 years old, has a million followers on Instagram, makes personalized horoscopes for Bad Bunny, has fun illustrating bad advice, reads the birth chart to J Balvin and Ricky Martin, and has just published his first book It's not you, it's the cosmos, with the Planeta publishing house. In Puerto Rican language, Mela Pabón is killing the league.
The origin The phenomenon of Checkin Mela – as his account is called in reference to his time as a receptionist – must be looked for in 2017 in a Puerto Rico devastated by Hurricane María. "It is the greatest crisis that my generation has experienced," recalls Pabón. Without electricity, water or coverage, Mela decides to write her own horoscope: "The light will come to you, the electricity will come soon, everything will be fine." Until then, Pabón shared comics about the surreal questions of the American tourists in the hotel or about daily uncomfortable situations. But the encouragement of the newly released astrologer was so well received by a population eager for good news that she decided to write the rest of the signs.
"Despite coming from a very Christian and Catholic culture, astrology is a very important cultural aspect for Latinos," Pabón analyzes now. She and thousands of Puerto Ricans grew up with Walter Mercado's televised horoscope and looked for a glimpse of the future in the newspaper signs. "But I didn't feel like any horoscope was straight to the point. I read them and did not understand, that if Mars or Mercury. And there I saw a narrative opportunity, to enter that world and try to transcribe it in a way that was more accessible, "he says.
For Pabón, who studied Creative Writing, astrology has been a door to tell new stories: "I don't consider myself an astrologer. I learned astrology as a narrative resource, it seems to me superinteresting as a language, for example, the symbols of each planet, each house, each sign ".
At first, the illustrator made predictions for the signs based on how her friends were doing. He categorized them and then wrote: "Devil, everyone, we absolutely all want to be a Virgo this month. What envy bastards, you are going to be so bright and radiant out there ", or" Capricorn, baby, goat that pulls pa'l monte, lily of my soul: heck in the end the thing starts. " When the account began to gain a lot of strength, Pabón felt the call of responsibility and began to study the transits, the houses and the planets. But without losing the tone that had his thousands of followers nailed. "When Ricky Martin gave him like to something, I almost fainted. It was so unexpected to see people that I respect and admire since I was little following the page, "she says.
After a concert in Mexico City, he gave Bad Bunny the horoscope he had prepared for him ("You have to take care of your health, take a break, you are very intense, you have to take it easy because you are going to get tired") and the singer He invited her to his end of the X 100PRE Tour, where Pabón set up an office. Shortly after, he made the astral chart to another of the great figures of urban music: J Balvin. "He is Taurus. He has Jupiter in the 10th house, which is the race house. That is a resounding super success, it is the goal of opportunities, a lot of luck. His letter was very good, very fiery ", he says with a laugh. He also made it to the singers Ricky Martin and Edgar Ramírez. "After that process I feel that they are friends for life, because you write the letter and you feel that we are already close."
Pabón maintains that astrology, no matter how generic it may be, allows us to get to know each other a little better: "Everyone is going to take what identifies them at the time. If you read something in the horoscope that works for you, that already fulfills a positive function ". And more in this time of crisis where everyone is looking for something that makes them believe that it will turn out well. "Every time we are looking for more help wherever it comes from, going to therapy, numerology, astrology, whatever it is, that makes us feel good and get ahead." That's what his first book is about, It's not you, it's the cosmos (Planeta, 2021), which has just been available in Mexico and Colombia: "It is a guide to maneuver through life for people as intense as me."
A staunch defender of the Puerto Rican language, the book includes a glossary with some of the most used terms in Puerto Rican slang, in which trap and reggaeton terms naturally slip through. "They have always told us that we must neutralize our way of speaking, because it is not elegant. Given this complicated situation with the United States and that identity crisis, for me it was essential that no word be edited in the book, "concludes Pabón. "For me it was a political act."
Bad advice illustrated
As if she were destined to be a creature with several heads, Hurricane María also created another altercation of the cartoonist: Querida Mela, the space she uses to give "bad" advice to small crises that disturb the peace of her readers. This spring, Pabón launched his pandemic and illustrated practice also in EL PAÍS. The first of many tips was for a boy in 2017, who had left his girlfriend before the hurricane and after the disaster he found that she already had a new partner. "I said to him: 'If you weren't there to put the storm shutters, don't wait to pick up the rubble again.' It was like mano, everyone is having a hard time, due to very strong situations, but you always have to find humor, and complicity in that bad trip", He says now, four years after that.
From all this time reading tears and petitions, the illustrator concludes that we have "too many exes turning around" and that heartbreak grabs us all. "There are also many uncomfortable situations and there I feel like an expert. Because I overthink things a lot and I've screwed up enough to give advice, "he adds. In some cases, he consults his mother, a psychologist by profession, so as not to be too wrong. The advice that she has had to repeat the most times to herself? "You can not please everybody".
Pabón, who has had to elbow himself to find a place in the traditionally masculine world of comics, believes that women's fears and concerns are implicit in his book. "Our experiences have a voice," he says, adding that he is in a process of deconstruction. "Feminism is inevitable when you are a woman living in a macho state."
For future plans, the Puerto Rican artist would like to continue exploring writing in other spaces also outside of Instagram. "I would love to do a series, for example, comedy and look for other formats where I can tell stories." She says that she is ready for whatever comes, but to find out for sure you would have to ask Madame Mela, she is the one wearing the cape.
Subscribe here to newsletter from EL PAÍS América and receive all the informative keys of the current situation of the region.