In 1971, José Sacristán sent a resounding message to Alfredo Landa in Pedro Lazaga's classic film: Come to Germany, Pepe! 50 years later, it is not without a certain joke that one of the best jazz players in the country, Lucía Martínez, present in the Vitoria Jazz Festival to his magnificent band The Fearless, formed in Berlin – where he lived for several years – with German musicians. Leaving the question in the air as to whether Martínez could have developed – and maintained – this project in Spain, the group presented its eponymous album on Saturday in Vitoria with a beautiful and rich concert. Martínez's music is tremendously varied and suggestive, a kaleidoscope of musical influences that goes from one reference to another, showing one of her lesser-known facets: her ability as a composer, with a special talent for melodies and always captivating pieces, is at hand. the height of his ability as a drummer (and in this he is one of the best).
Martínez heads a whole list of great national musicians who have passed through JazzVitoria this year – an inevitable trend due to the pandemic and the difficulty of international musicians traveling, but which the new direction of the festival intends to maintain in the future – and represents another The spirit of the contest that has become clear in this last edition: having a large presence of female artists on the poster, another of the lines that they want to maintain as a hallmark.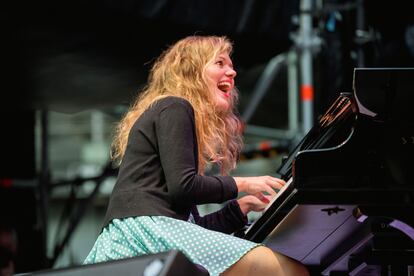 This year's edition will also be remembered for the Iradier Arena stage, a space that has served to save furniture in times that are still very uncertain for live music, in which a promoter knows what capacity it has today, but not what will have tomorrow. The coldness of the venue affected some artists more than others, such as the Danish pianist Kathrine Wildfeld or the French drummer Anne Paceo, who opened in Iradier on Friday and Saturday afternoons respectively. The first, with an excellent group of improvisers at his side, was the victim of a poor sound that did not do justice to his music; Paceo, for his part, presented a tepid and tedious proposal that was too small in a venue like that. Quite the opposite happened with Moisés P. Sánchez, who on Friday night was able to raise the pavilion with a first-rate show, supported by his excellent group. Sánchez's proposal has different virtues: forcefulness, dynamics, accessibility and, above all, an enormously brilliant soloist (himself), an overwhelming rhythmic section and the strength of having created his project with a clear and determined direction. His concert in Vitoria was a sample of one of the most compact and charismatic live shows that we have on our scene.
With a very positive balance of an inevitably complicated edition, the festival closed Saturday night in an unbeatable way, with a North American supergroup led by drummer Antonio Sánchez. The Mexican said in Vitoria that it was a luxury to have those musicians on tour with him, and it is no wonder: to put soloists of the stature of saxophonists Donny McCaslin and Miguel Zenón on the same stage, with the rhythm of Sánchez and double bass player Scott Colley guarantees nothing short of miraculous music. All of them are among the elite of contemporary jazz, and the formula has no cracks: from beginning to end, their concert was an energetic and portentous performance show, with McCaslin and Zenón exulting and a group that did not slacken a single second. As we could apply to this edition of the festival, it is difficult to do more with less.