Just a week ago, the dancer and choreographer Jesus Carmona (Barcelona, ​​35 years old) was in Moscow a nervous wreck. Not only because that night he was going to perform at a star gala at the mythical Bolshoi Theater, but because during that ceremony the winners of the Benois Awards were going to be revealed, in which he was competing as a finalist in the category of best male performer. Not to be nervous: the Benois are considered the Oscars of dance and if he won he would be crowned the best dancer on the planet. So when the moment finally came and he heard her name, it was hard for him to take it for granted: "I wasn't expecting it. But it was also all in Russian and he was not sure if they were announcing the nominees or the winners. I just sat there and it took me a while to react, "he recalls in a telephone conversation with this newspaper, still excited.
Jesús Carmona and Iratxe Ansa win the National Dance Awards
Carmona had been emerging for some time as a renewing figure of contemporary flamenco, putting him to dialogue with other genres and disciplines on the path set by artists such as Israel Galván or Rocío Molina. But this season the Catalan seems to be especially on a roll. In October he received in Spain the National Dance Award in the form of creation, his show The jump arouse admiration wherever you go and this Tuesday presents at the Cádiz en Danza festival a first version of a new piece, Dance of monsters, which will have its official premiere next fall. It is the fruit of long years of work in search of a way of dancing rooted in tradition but at the same time personal and always guided by a question: "What kind of dancer do I want to be?" But instead of answering it, Carmona went off on a tangent: "I decided that I had to erase all the stereotypes that I had in my mind about what a bailaor is supposed to be and find my own way of being one. Once I got it, everything started to flow ".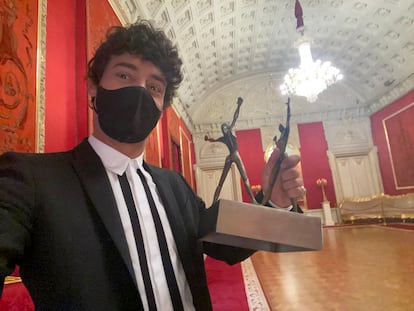 That personal way of dancing is not made only of flamenco. The Carmona group goes through the tablaos of Barcelona to which his teacher as a child, the bailaora Sonia Poveda (sister of the cantaor Miguel Poveda), in addition to direct teachings from leading figures such as Antonio Canales, Eva Yerbabuena, Manuela Carrasco or Ángel Rojas and his work as the first dancer of the National Ballet of Spain between 2007 and 2010. But she also has a solid base in classical ballet, has deepened in contemporary dance techniques at the Marta Graham school and even studied tap dance in New York. All that variety of knowledge allowed him to get rid of the stereotypes of flamenco not only in the forms, but also in the themes, as reflected well The jump, where he deconstructs the gender patterns that constrain the men's movement.
"That was not my first intention. The show was born out of my own concerns. My first child, a boy, had just been born, which raised a lot of questions in me about the model of masculinity that I and the rest of society were going to instill in him, "explains Carmona. In reality, he assures, all his shows are born that way: "They are not autobiographical, but they answer personal questions. In some way, each one makes me grow ".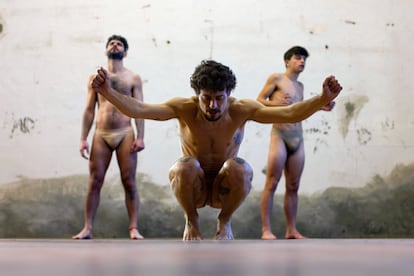 The Benois has not come to him for this show, but for a previous one, The Game, which premiered in 2019. As last year the awards were not given due to the pandemic, the awards for this edition correspond to works from that year and, in between, Carmona had time to create The jump. Curiously, The Game is a show of a much smaller format than The jump: only a bailaor (himself), a guitarist (Juan Requena) and a singer (José Valencia). "That starting simplicity gave us tremendous freedom, which I think has been the key to its success. There is a lot of improvisation, we play a lot. They told us: 'You are crazy!'
Only another flamenco dancer, Fernando Romero in 2011, had been distinguished with a Benois before Carmona. The other Spaniards who achieved it are great figures of classical or contemporary dance: Ángel Corella (2000), Nacho Duato (as a choreographer, in 2000), Lucía Lacarra (2003), Tamara Rojo (2008), Joaquín de Luz ( 2009), José Carlos Martínez (as choreographer, 2009) and Alicia Amatriain (2016). Carmona has already belonged to that glorious club since last week.