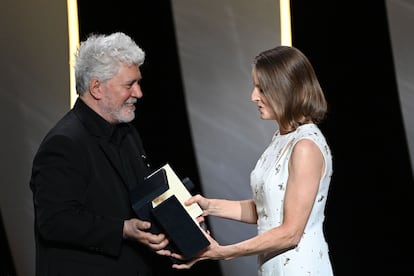 It was one of the most powerful images of the opening ceremony of the 74th Cannes Film Festival: Pedro Almodóvar presenting the Palme d'Or of honor to Jodie Foster after praising the career of an "exceptional artist", turned from a child actress to a prodigious filmmaker in a time when that seemed impossible.
Former Palme d'Or winner Bong Jonn-ho; the president of the jury, Spike Lee, and Almodóvar and Foster have opened the contest, at a time that has surely made the organizers of Cannes and millions of moviegoers immensely happy. But before, with that special recognition, Foster recalled: "It has been more than 45 years that Taxi Driver it won the Palme d'Or and I am very grateful to this place that launched my career ". That is why, she commented, it has been so important for her to return to the Gran Teatro Lumiére: "I am looking forward to seeing what the future awaits us all together". And in his impeccable French (he studied at the Sorbonne) he underlined how happy he was at an event that means once again "celebrating auteur cinema on a big screen".
Almodóvar, before Foster collected the trophy, recalled that the actress presented in 2019 in Los Angeles Pain and glory but that long before they met, he already felt her close "with the little charming of Bugsy Malone", right before Taxi Driver, by Martin Scorsese. "At a time when female filmmakers were rare in the cinema, you have chosen your roles very intelligently" and "you have managed to create the portrait of a woman who shows her strength without hiding her weaknesses".
For Foster, it all came down to his love of movies, increased by one year with everyone locked up and many people facing "sometimes deadly" suffering. "Although the theaters were closed, the cinema always continues," he stressed. "This year, it has been my lifeline." And he explained that after 52 years of career, he appreciates "the creativity that renews our craft, as well as the magic of images, the authenticity of emotions and provocation, because cinema is there to excite, connect and transform." Therefore, you will never lose "gratitude for the cinema."