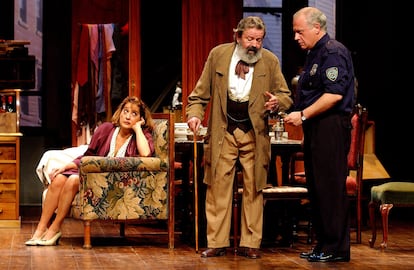 "I got to know Juan José Otegui a lot in those nights in Madrid in the seventies", tells me the actor José María Pou, who shared passionate talks with Otegui, who died this Tuesday in Madrid at the age of 85: he was another great theatrical gathering. Pou and Otegui worked together in hundreds of functions, like that double program of Valle (The finery of the deceased Y The captain's daughter) directed by Manolo Collado. Or triple program, Tuesday of Carnival, directed by Mario Gas at the María Guerrero. "It was the first time he came to Spain", continues Pou, "a huge Argentine set designer, Claudio Segovia, we worked in many sessions together".
Pou and Otegui also played in the best television. They started from the bottom, José María Pou continues: "I knew him when he was a very common actor, present in all the casts". They started with theater and a lot of television: their presence on the program was frequent Study 1, those famous televised theatrical performances, which gave him great popularity. "It was from the rope of Paco Merino and Nicolás Dueñas. A style of very good actors who made up the bulk of the profession. Otegui, Merino and Dueñas were what came to be called headliners, the first supporting actors. He was an actor who spoke wonderfully, very marked by the physique of a very calm gentleman. He never used to do crazy comedies on stage, create excessive types, participate in shows or sing, dance, jump, do and say extravagances. He appeared and spoke beautifully, and you believed it very well and on the spot ".
Otegui always had the recognition of the profession, but where he went much further was as an older actor, in the final part of his career, on the eve of his retirement, "and he took on an important weight with roles of first actor", he continues Pou.
He retired, they told me, to a town in Asturias, where he did not work for a long time. I had several actor children, but above all I remember a phenomenal one, named Sergio Otegui. He was also withdrawn, in my opinion too soon.
Juan José Otegui received a Max award, two Ercilla and two from the Union of Actors. On June 5, 2010 he went on stage for the last time at the Campoamor theater in Oviedo: for his farewell he chose The Marchioness of O, Directed by Magüi Mira. He worked with countless theater directors, including Lluís Pasqual, Mario Gas, Adolfo Marsillach, José Luis Gómez and Miguel Narros. He was a regular at the National Dramatic Center, where he participated in works such as Mother Courage and her children (1986); Julio Cesar (1988), Slavs (1997), San Juan (1998), The foundation (1999) the The old lady's visit (2000). Also in the National Classical Theater Company: Fuenteovejuna (1993), The life is dream (1996), Don Juan Tenorio (2000) and The Trickster of Seville (2003). The Max was given to him in 2005 for The price, one of his most remembered works, in addition to Visiting Mr. Green (2006).
He also participated in films by Fernando Fernán Gómez (Offside), Pedro Almodovar (Far heels), Vicente Aranda (Time of silence) and José Luis García Sánchez (The longest night), among other.