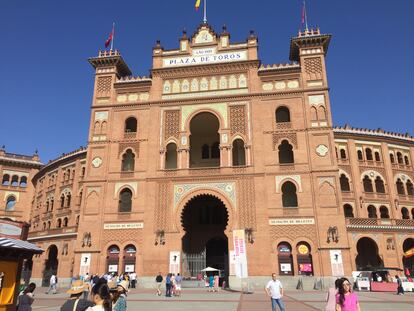 The Center for Bullfighting Affairs, dependent on the Ministry of the Presidency of the Community of Madrid, is organizing a great bullfighting event -a festival with the presence of some of the leading figures in the ranks, according to the Mundotoro portal- in the bullring of Las Ventas to celebrate on May 2.
Although the poster has not yet been officially announced, -the steers will belong to different herds- it seems that the rejoneador Diego Ventura could be at the door of the gangs, and the matadors Enrique Ponce, El Juli, José María Manzanares, Miguel Ángel Perera, Paco Ureña and Roca Rey; Finally, the presence of a bullfighter who would close the celebration is not ruled out.
From the Ministry headed by María Eugenia Carballedo they have confirmed to Efe that, in the absence of the approval of the Ministry of Health, this event "would mean the return to the bulls in the region after the stoppage due to the pandemic", after the president regional government, Isabel Díaz Ayuso, announced it in an interview on the program It's Bulls by Esradio.
Along these lines, Díaz Ayuso explained the intention of his Government to "recover May 2", which has always been a traditional Goya bullfight, and that it can be held so that the bulls start again in San Isidro.
The regional president has advanced that they have been talking about celebrating it in the Plaza de Leganés or Vistalegre, but she would like to study the possibility of it being in Las Ventas, even if it is at first with very limited capacity.
For Díaz Ayuso, May 2 "is an epic date" and that is why they want to recover this party, and see if the charity bullfight and other mythical ones could be celebrated with crowds that for the Madrid president "are hard, especially for the person who gambles his life in the square ".
In addition to this first great bullfighting celebration, Díaz Ayuso added that his intention is "to be able to go little by little" and, from here, celebrate the rest of the festivities during June, and in autumn end the year with a "half "To open in 2022 with" total hope. "
Las Ventas square has been closed since October 2019, and one of the reasons put forward by Simón Casas, businessman of the same, to justify the absence of celebrations is that the first square in the world could only be opened to celebrate a celebration of maximum quality, at the height of the prestige of the Madrid bullring, a condition that is not met in this proposal from the Community of Madrid.