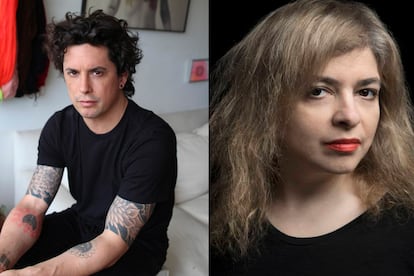 The Argentine writer Mariana Enríquez and the Chilean Benjamin Labatut have been selected this Thursday among the six finalists for the Man Booker Prize. The award is one of the most prestigious in Anglo-Saxon literature, with the winning author and translator splitting a prize of 50,000 pounds (about $ 70,000). Although the award began to be awarded to English-speaking writers in 1969, only since 2005 has it been given the best translations published on the British market. This year, among the six nominees, are two South Americans.
In the case of Mariana Enríquez, it is the translation of her book of horror stories The Dangers of Smoking in Bed, which was made by Megan McDowell and published by Granta Publishing. McDowell, in turn, has translated other former award finalists such as Argentine Samanta Schweblin (three-time finalist for the British award), and has translated Chileans Arturo Fontaine, Alejandro Jodorowsky, and all the work of Alejandro Zambra.
"I am very happy within what the pandemic situation allows, because enthusiasm is highly conditioned by the situation we are going through," Mariana Enríquez told EL PAÍS. "The process with Megan is always very organic, very comprehensive and very timely. As she is a translator who lives in Chile, and translates many Latin American writers … We have a very good vibe, but it is not a very intense work as a whole. She consults more with other people than with me, and with me she consults very specific things, like Argentineanisms, or things that have to do with the history of Argentina ".
Enríquez's nominated book this year is a collection of twelve horror stories including teenage girls who swim in cruelty, wandering ghosts, or egregious tributes to deceased rockers. The Argentine author has become in recent years one of the most important feathers in the Latin American horror genre for her other collection of stories The things we lost in the fire (also translated by McDowell) and Our part at night, which won the Critics Award last year.
In the case of Benjamin Labatut it is a translation of his book A Terrible Greenery, published by Pushkin Press and translated by writer Adrian Nathan West, who has translated authors such as Josef Winkler, Pere Gimferrer, and Marianne Fritz. "Working with Nate was a real pleasure. He made many contributions to the book, not only in terms of the translation, but also gave me data and sources that improved it. He has a wonderful eye for detail, and that beautiful obsession of good translators, "said Labatut about his translator. "And Nate not only helped me translate, but began to navigate the murky waters of the publishing industry. So I have a lot of esteem for him. "
Labatut's four-story book mixes genres such as essay, short novel, and short story, and is a combination of fiction and reality, featuring scientists Albert Einstein, Alexander Grothendieck, Erwin Schrödinger, and Werner Heisenberg. But the writer focused on dilemmas or sufferings faced by these physicists or mathematicians based on his discoveries.
"I am not sure why, but I find it difficult to be overjoyed with this great news," Labatut told this newspaper. "I know this is the most important thing that has happened to me as a writer. I know I should be on my knees, praying, thanking all the gods, and most of the demons that help me write. But I am suspicious. Why am I going to lie? Not from the award, which has a great reputation, but from the attention and the media circus that surrounds it. I also distrust success. And well, I also distrust myself. Literature, at least the one I try to cultivate, is like an act of disappearance. I have always written with my back to the world. And now I feel like there are a lot of people looking over my shoulder ".
Among the other nominees are two French authors – David Diop with At Night All Blood is Black and Éric Vuillard with The War of the Poor– Danish Olga Ravn with The Employees, and the Russian Maria Stepanova with In Memory of Memory. "This list is, once again, dominated by independent publishers, with two books published by Pushkin Press, as well as books by Granta, Fitzcarraldo and Ediciones Lolli," the statement read. The last two editorials had never been recognized by the jury, which this year was made up of writers Lucy Hughes-Hallett, Aida Edemariam, Neel Mukherjee, Olivette Otele and George Szirtes. This year, the winner of the six nominees will be announced at a ceremony scheduled for June 2.
Since 2005, several Spanish speakers have been nominated, such as Enríquez and Labatut. In the past, novels were shortlisted and nominated Sound Desert of the Mexican Valeria Luiselli, Mac by the Spanish Enrique Villas-Matas, and last year Hurricane season of the Mexican Fernanda Melchor with The Adventures of China Iron of the Argentine Gabriela Cabezón Cámara.
Subscribe here to newsletter from EL PAÍS América and receive all the informative keys of the current situation of the region.