"Great men try to do things right, which is the only thing that matters. True love is like that ", reflects the character of Annabeth Marcus in the bleak final pages of Mystic River, a novel published 20 years ago and that marked a turning point in Dennis Lehane's career and in the future of the contemporary noir genre. Annabeth says this to her husband Jimmy, a man with bloodstained hands, scarred, like so many Lehane characters, by the weight of guilt and a never-ending past, determined to do whatever it takes to defend her. theirs. "It is one of the few books I have written that I can still bear to go back to. It turned out really well, the build is solid, the characters have depth. It's the closest thing to my voice, I can hear my own cadence when I read it. And it is faithful to the world in which I grew up, it does not idealize, it does not sentimentalize ", Lehane reflects one afternoon in March in New Orleans, where she has moved from her residence in Santa Monica to record a television series with Apple, a task that has been occupying more and more time in the work of the author of Shutter Island.
Mystic River tells the story of three men — Jimmy Marcus, Sean Devine, and Dave Boyle — whose lives were turned upside down one boring afternoon in 1975 when they encountered two sexual predators. Dave got into the monster car, deceived, and spent four days kidnapped, subjected to the worst humiliations. Nothing was ever the same for any of those children who 25 years later try to survive on both sides of the law. "It is the distillation of everything I could catch about the world in which I grew up. Capture the joys and horrors, comedy and nonsense of violence. I remember having been given the mission to unearth those memories just as they were, and not as they should have been or how I would like them to be, "recalls Lehane (Boston, 55 years old) from his temporary residence, surrounded by mansions of classic southern style and lined streets by huge trees from which large lichens hang. Nothing like his native Boston, those working-class neighborhoods where everyone knew each other, an essential part of his literary geography and which have now disappeared. "Virtually all these neighborhoods are now completely gentrified and would be unrecognizable to my parents' generation," laments Lehane, who already in Mystic River anticipates a movement that has subsequently been unstoppable.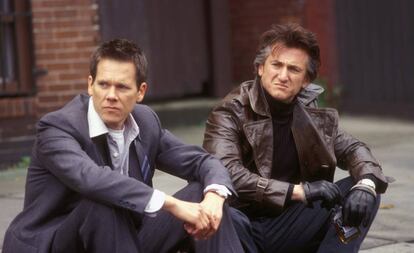 The novel, which the Salamandra publishing house reissued in March, multiplied its fame with the 2003 film adaptation directed by Clint Eastwood with a screenplay by Brian Helgeland. Sean Penn as Jimmy and Tim Robbins as Dave won the Oscars for Best Actor and Best Supporting Actor, respectively. The trio is completed by Kevin Bacon in the role of detective Sean Devine, who returns to the neighborhood to investigate the death of Jimmy's daughter. "They got what I had always been after: a classic tragedy. We are the jail in which we are prisoners. And Clint understood that from the get-go and gave me his word that he wouldn't allow the studio or anyone else to change my ending: the good guy doesn't win, the good guy dies, and the bad guy (who you think is the hero) gets away. ; and the cycle of violence continues ", he assures.
Mystic River is the closest thing to my voice, I can hear my own cadence when I read it. And it's true to the world I grew up in, it doesn't idealize, it doesn't sentimentalize
It's not Mystic River an exception in the work of an author who always tries to escape the demands of the police officer and the closed and gratifying endings and who also considers himself a "tourist of the genre". Not in vain, he frequented the pure detective novel with the series starring the couple Kenzie and Gennaro, the gothic terror in Shutter Island (2005), the thriller pure in When the fall begins (2019) and undertook his most ambitious undertaking with Any other day (2008), Live at night (2012) and That world disappeared (2015), a trilogy that traces the life of mobster Joe Coughlin from World War I to the end of the Second. "I'm sure he wanted something epic, which is not to say that he was navigating the waters of the great American novel. Only a fool would do that ", he declares to reject that qualification for a set of books in which, in addition, the great themes of the present resonate strongly.
Lehane enjoys being a screenwriter. It gives him money and prestige and also allows him to work with more people, something he says he loves. He, Michael Connelly or Richard Price have made the leap to the screen in better conditions than William Faulkner, Dashiell Hammett and company in classic Hollywood. But that has not separated him from literature. "I'm working on a novel about racism and a family tragedy in Boston in the 1970s," he confesses. "It is a very vivid period for me because I was at that time a fascinated child in a moment of great social upheaval who was amazed how the old world exploded around me." Boston, the past that surrounds us and the tragedy that destroys us. Television hasn't changed the man it created 20 years ago that much Mystic River.
Surprises on the screen
Dennis Lehane does not want to list the best film adaptations of his novels because he considers that it would be "an insult" to those who have worked on them. But it can be said that he has been lucky and that he is happy with them, especially with Mystic River and with some details that may surprise.
"I have never told this," he confesses, "but I had doubts about Laura Linney [como actriz para encarnar a Annabeth, la mujer de Jimmy] because up to that point, she had mostly played kind roles. Annabeth is one of my cruelest creations. But once again Clint asked me to trust him. And Laura's performance nailed the idea of ​​the woman I wrote, a type of woman that I knew very well, the type of person who is perfectly capable of compassion but absolutely capable of being empathetic. It is my favorite performance of the movie ".