Dimitri Bashkirov hated routine. "He is the worst enemy of music and other things," says his son-in-law, Daniel Barenboim. But the neighbors of the Russian pianist, no. When he moved to live on Factor Street, in the Austrias neighborhood, a few meters from where he taught every day at the Reina Sofía School, he played the piano and was asked to open the balcony to listen to him well. Until the news of his death reached them on March 7, at the age of 89. In order not to break the routine, the neighbors asked that two of their students come that day to play with the windows open. Of course, it was the last time.
They do not forget him, nor do those who were his disciples get rid of memories and teachings. This Wednesday, some attended the memorial that the School organized and in which Barenboim, his wife, Elena Bashkirova, and Michael, their son and grandson of the pianist, played Schubert: the Sonata Arpeggione for viola and piano, a Impromptus and the Fantasy in F minor with four hands.
That, quite simply, the transparent, direct and honest music of Schubert, was the best sentence. Paloma O'Shea, creator of the School, remembered him since they met in Santander in 1976. "He was the soul of the school," she said. His first teacher and the forger from his classrooms of a continuation line of what was the Liszt school for Europe and of which he rose as one of its figures in Russia. Or rather, from his classroom, where yesterday they placed flowers on his piano and discovered a plaque in homage to the one who gave so much there.
With your own method. "Students should not be tortured with notes and more notes," he said. "We must teach them to love music, as my maternal grandmother did to me." And he always noticed it from the anatomy. "You cannot begin to touch with your hands. Music goes first to the head, then goes through the heart and finally reaches the fingers, not before ". His classes were filled with a tremendous degree of demand, the one that he had learned together with his generation colleagues or previous teachers, such as Sviatoslav Richter.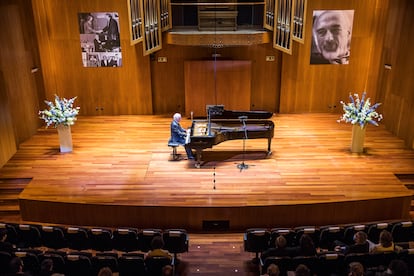 Talent, vocation should not serve as a safe-conduct for anything, but as a starting point towards excellence, reinvention, fantasy, all that truly distinguishes the greats. And in that way, Bashkirov applied rigor, but also a lot of sense of humor. "With an energy that made him seem immortal," say the brothers Luis and Víctor del Valle, who ended up forming a duo on the advice of their teacher and sat yesterday in the same row as another of their students, Luis Fernando Pérez.
They are three in a long list that began at school 30 years ago with Eldar Nebolsin and Stanislav Ioudenitch, who were brought from the beginning of Russia and of which Marta Zabaleta or Arcadi Volodos are also part. And it is that Bashkirov, with Paloma O'Shea, put the pillars in Madrid of what today is one of the most important schools in the world. Present and future talent, with established careers and a style, a way of making and preaching music.
There are many who can probably continue the relief and the commitment, that all or nothing that Barenboim highlighted yesterday and that marked him since he met him thanks to Arthur Rubinstein in Paris. "He transmitted to us musicians that this profession was a fundamental issue, that without a piano or a violin, life was not worth living."