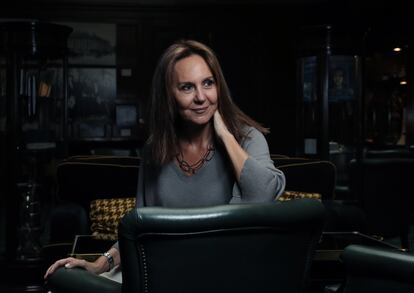 Seduction not as a prelude to sex, but to overcome tragedy. Sira (Planet) is a woman who uses her tools to grow professionally and also the name of the second part of the novel The time between seams, It has sold two million copies and has been translated into 40 languages. María Dueñas (Puertollano, Ciudad Real, 57 years old) begins this new narrative after the Second World War, with a character who lives in areas as disparate as Jerusalem, London, Madrid or Tangier.
On attraction and the diaspora, the writer Cristina Peri Rossi wrote: "Of all the catastrophes, including that of exile, our libido saves us". Dueñas laughs: "Poor Sira isn't too tall. His interest and ability are not so focused on the sentimental, emotional or sexual; it is focused on its objectives ". All the women in the novel show a daring disposition as mothers, grandmothers, lovers, ex-wives or reporters. Even the Argentine politician and first lady Eva Perón appears. "I wanted them to be powerful without stripping them of their femininity, without a scene of cutting their hair and putting on boots," he says, although it has reflected that guilt they feel when they have a "broken heart" between work and taking care of the family. "We have it nailed here and we have to take it off," he adds, pointing to his chest.
The protagonist goes from dedicating herself to domestic chores to the secret services and journalism. Understand the satisfaction that emancipation brings. "You don't want to become passive, inactive, or patient; she wants to have initiative and be involved in things that enrich her and free her from other pressures, such as her mother-in-law or living with her mother ", explains the author at the reception of a hotel in Madrid. The English philologist wanted to show a change not only geographically, but also by trade, that she herself has lived in her flesh, since when she published the first part, 12 years ago, she was a professor at the University of Murcia and now she lives by writing.
Dueñas, who has sold 10 million of all his work in different languages, has had to face some prejudices for the label of best seller. "I do not like the lack of respect of those who read something minority and believe that they have the absolute truth. Reading is a free exercise of enjoyment and there are authors like me, who sell a lot, or others who write less profound literature. There are lots of readers, everyone deserves tolerance ". Even so, she recognizes that the affection of the people makes her not feel discredited.
The other pigeonhole she faces is women's literature. "A young journalist told me today that he loved Sira because I did not expect to find such a story inside. Many believe that a protagonist, a writer and a cover where a woman appears are automatically intended for female audiences, "she complains, but clarifies that she has no problem because they read more. "It bothers me a lot when they call me as part of the quota, that they say: 'We need five women. I understand that there are sectors and professions that must be given visibility, that they are a reference for girls. But the roll of covering a quota makes me tiring ". She includes men organically in her novels. "I avoid that they are subsidiaries of them," he clarifies.
The author is a lover of balance in many aspects. Among them, in how to treat memory. On Sira mentions the Franco regime, two years after the dictator was exhumed and expelled from the Valley of the Fallen. "History cannot be a drag that prevents progress, nor can it be hidden." In his texts he puts contextualization, but does not focus on the data: "I check so that nothing is out of balance: that the story does not weigh more, but that it is sustained by events."
On SiraSome of these events occur in a Jerusalem under British Mandate, where "curfew" appears, long before it was an expression on everyone's lips. Mark the distances with what happened by covid-19. "The deprivation of liberty is always thankless, but the causes are different. We have experienced this harsh pandemic in many ways. Older people, those who live alone, the exposed have suffered more ". The confinement has been good for her to write. In addition, he already glimpses a hopeful future.