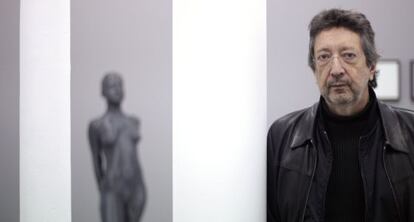 At the 2001 Venice Biennale, a collaboration was presented between the filmmaker Atom Egoyan and the Portuguese artist Julião Sarmento, who died today in Lisbon at the age of 72. Close, that's what the play was called, it ripped the space away from the audience and plunged them into a kind of hypnotic dream. It was a film projected on a screen that had to be watched from a very short distance, the one that allowed the narrow corridor, just for little more than a body. What was believed to be discovered in the image was the part of a body magnified until the paroxysm in front of the helpless gaze. That body became immeasurable and the viewer was lost in this ocean. Then, sharpening his imagination a little, he began to make out a huge foot, with something monstrous and grotesque. Impossible to distinguish at such a short distance, it was diluted in its own size. In the background, a strange sound accentuated the dreamy atmosphere, a soft conversation of enormous intimacy, and there was a sudden glimpse of a certain daily act that appeared by magic: someone was cutting the toenails, or so it was believed. Although the funny thing was how that intimacy existed only because we were there to reveal it, to make it wish.
Perhaps none of the numerous works in Sarmento's production, undoubtedly one of the Portuguese artists with the greatest international visibility, has more accurately reflected some of the essential characteristics in his production: desire and everyday life. Or, to be more precise, the daily life of that desire that slips away at every step, escapes. It escapes us. In fact, Sarmento has known how to count desire like few others; not for nothing was he a reader of Bataille, Sade, Joyce and, especially, Pessoa. He has managed to leave the narratives open and, therefore, the complicit viewers in suspense. This unusual skill has allowed him to make this desire abstract in what are perhaps his best works, those that put aside explicit representations —which sometimes also appear in his production— and force us to guess; those that propose an unclosed universe, in transit like that of Close.
Dematerialized bodies
The career of the artist, who has died of cancer, begins in the Portugal of the 1970s, a time when, as in Spain, the country was preparing to enter modernity through a certain conceptual change that in Sarmento translates into an extraordinary job. Films, photo montages, paintings, collages from unexpected elements … they constitute the universe of this artist. Almost 30 years later he spoke of his work as a continuuum, extended time through which, despite the changes in the means used, Sarmento returned again and again to the aforementioned idea of ​​desire, perhaps because, as Lacan explained, desire is that which can never finish being named and that is why it makes us return to the same place of impossibilities over and over again.
Perhaps for this reason he left his pop flirtations very early and in the eighties he returned, like so many artists of his generation, to a painting that, from then on, will be transformed, will become a drawing, will coexist with other media, but will be another of their repeated signs of identity. This return will culminate with one of his best known and most forceful series, the White paints, from the late eighties, where, in some way prelude Close, the bodies are dematerialized, they become sober, they become fragments, they are dressed in what cannot be finished counting. In short, they openly desire each other. In 1997 he represented Portugal at the Venice Biennale, although his international recognition had taken place much earlier. His numerous exhibitions in Madrid would prove it, among other spaces, in the Reina Sofía Museum and the Casa Encendida.