Girl from Ipanema, the song of bossa nova best known around the world, is the central theme of the musical show The song of Ipanema, which is presented as a celebration of the Brazilian music of the sixties. The story of how it was composed by Tom Jobim (music) and Vinícius de Moraes (lyrics) and the latter's relationship with a girl 30 years younger serve as the common thread of a montage that also shows how other classic pieces of the genre were created, What what had to be O she is carioca.
The musical, which premieres this Friday at the Fígaro theater in Madrid, stars Vinícius de Moraes and takes place in 1962 at the Veloso bar in Rio de Janeiro, "where Jobim and Moraes often met," explained this Wednesday at a press conference José Luis Sánchez, author, producer and main interpreter of the show, dressed in period clothes with the rest of the team and sitting in the middle of what, in effect, looks like a Rio de Janeiro gambling den.
Moraes's love story with Nelita, a girl 30 years his junior, performed in the show by Africa Romero, prompts the performance of emblematic melodies of the bossa nova, performed live by Brazilian artists. The stage direction is signed by Andrés Morte, co-founder of La Fura dels Baus, while Clara Luna and Menno Mariel have been in charge of directing the musical part. The cast is completed by Jordi Cadellans, Amparo Salzar, Ángel Padilla, Lari Antunes, Gabriel Fortunato, Bruno Butenas, Eugenia Crispin and Ed Moreira.
Although it is a musical show, the team wanted to clarify that the assembly has an intimate invoice. "You can't make a musical of bossa nova How do you make a Broadway one ", stressed the actor Ángel Padilla during the presentation.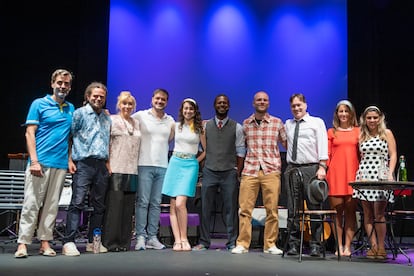 But not everything was idyll in the Brazil of the sixties. The musical also reflects the atmosphere that was lived in the country two years before the coup that established the military dictatorship for almost 20 years. Many songs of the time had "encrypted messages" about that historical moment. And of course you also breathe longing on The song of Ipanema. Sánchez defines it as a positive nostalgia. "It is worth suffering for love and risking for love. Fear cannot control our lives ".