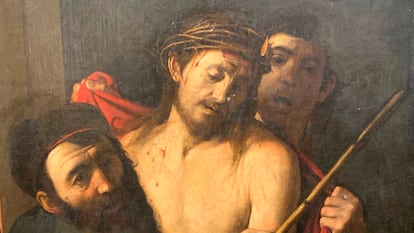 The Community of Madrid has requested this Monday to Casa Ansorena to make known the identity of the owners of the alleged caravaggio which was going to auction with a starting price of 1,500 euros last Thursday. A bid that the Ministry of Culture managed to paralyze after the Prado Museum warned that it could be a painting by the Italian artist and not the Ribera circle, a painter to whom the auction house attributed authorship in its catalog. Since last April 9, the painting has had precautionary protection as an Asset of Cultural Interest (BIC) thanks to a resolution of the General Directorate of Heritage, which allows the Community of Madrid to oblige the owners of the work to keep it and the State to exercise the right of first refusal and withdrawal in the case of sale.
The Ministry of Culture has requested this Monday the regional government to allow the Prado Museum to analyze the work in order to determine its authorship. The community, once it knows the identity of the owners of the painting and their residence, will request the Madrid art gallery to choose qualified technical personnel to participate in this face-to-face visit to be carried out in the second half of April. The painting was "safe and protected" at the Ansorena facilities this weekend, the heads of the auction house reported to Culture at a meeting attended by the general secretary of the portfolio, Javier García Fernández, and the general director of Fine Arts, María Dolores Jiménez-Blanco, according to sources familiar with the meeting informed this newspaper.
Once the declaration as BIC of the table is published in the Official Gazette of the Community of Madrid next Wednesday or Thursday, a public information period will begin, where the City Council of the capital, the interested parties and the Regional Council of Historical heritage, according to regional government sources. Likewise, a report will be requested from the Royal Academy of Fine Arts of San Fernando, which must be issued within one month of the request.
All the documentation that the Community collects in this period will be analyzed and the possible allegations that the parties involved register will be addressed. This process will produce a resolution that must be approved by the Governing Council of the Community of Madrid within a maximum period of nine months from the publication in the official gazette of the declaration of the painting as an Asset of Cultural Interest. That is, according to the calculations of the regional government, this entire procedure that begins this week can be extended until January 2022.