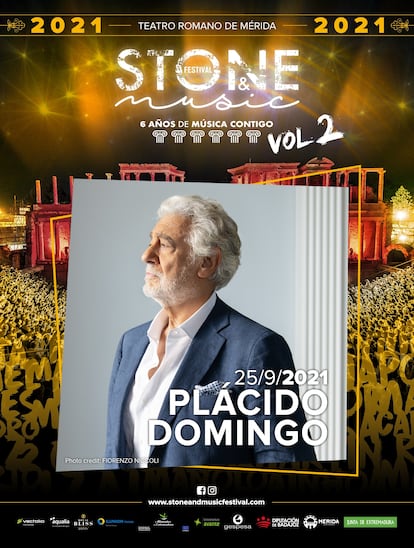 The Junta de Extremadura, in the hands of the PSOE, has rejected this Saturday the performance of Plácido Domingo in the sixth edition of the Stone & Music Festival of Mérida and has decided that the Fundación Orquesta de Extremadura will not perform in the tenor's concert. The Executive has made this decision after the organization of the contest announced this past Friday that Plácido Domingo would close the 2021 edition of this festival on September 25 at the Roman Theater in Mérida, in a concert in which he would be accompanied by the Extremadura Orchestra.
The regional government had met in an extraordinary session to address the covid containment measures. It is at that meeting that it has been decided that the Extremadura Orchestra should not perform in this concert and, therefore, that it should not accompany Domingo. In a note, the Board has expressed "its rejection of the performance of Plácido Domingo within the program of said festival." The Governing Council has decided that from this moment on, the programming of any concert, festival or event that is sponsored by the regional Administration must be approved prior to the granting of said sponsorship.
A day before this decision was made, Irene de Miguel, the spokesperson in the Assembly of the United for Extremadura group (the brand of Podemos in the region), considered it "embarrassing and regrettable" that the Board financed a festival with public money. will close "a person denounced by numerous women as a sexual harasser" and asked what was the feminist commitment of the PSOE Extremadura.
sexual harassment
Last June, Plácido Domingo performed at the National Auditorium in Madrid and was received by the public with cheers and applause at his first concert in the country after a year and a half of absence due to the accusations of sexual harassment made against him by a score of women in United States. At first, Domingo described these harassment cases as false and, in different interviews and countries, affirmed that he had never abused anyone. However, an investigation by the United States Opera Musicians Union (AGMA) confirmed "the accusations against Plácido Domingo." He asked for forgiveness for "the pain" he could cause them and assumed "completely responsibility" for his actions.
The scandal, in the middle of the MeToo campaign, led to his resignation as director of the Los Angeles Opera and the cancellation of most of the performances around the world that he had already signed. Domingo has not returned to work in the United States, although he has in other European countries.