We are experiencing, you may have already noticed, a peak of media interest for Héroes del Silencio. For the premiere of the documentary Heroes: Silence and rock & roll (Netflix), by Alexis Morante, and the publication of Heroes of legend (Penguin Random House), an unofficial biography signed by Antonio Cardiel. Apart from the intrinsic values ​​of both works, approaches to the great enigmas of Spanish rock are welcome.
It should not be forgotten: the exploits of Heroes are astonishing. In 12 years, they went from tiny rehearsal venues in Zaragoza to headlining posters at international festivals. Their fierce work rhythm makes it easier for them to conquer markets in continental Europe, always singing in Spanish, and a good part of America. With four studio albums they cover a wide stylistic range, which is interrupted with a dog-face separation.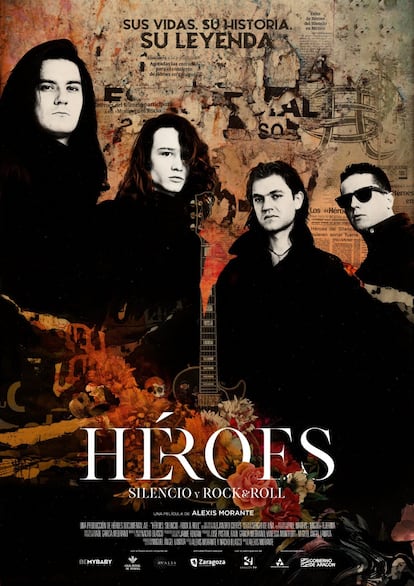 All of us who then approached the story of Heroes sensed that it was an impossible mission: open wounds, issues that could not be mentioned, serious reluctance before the press. On the contrary, both Morante and Cardiel have had access to the main protagonists and to the group's formidable documentary and audiovisual archive. Other level.
In fact, one would recommend Heroes of legend as a textbook to investigate the internal mechanics of the rock group, a social organization that is – modern say now – on the way to extinction. We learn that the seeds of disaster germinated from the beginning, with a loquacious singer-lyricist and a self-enclosed guitarist-songwriter, although that a priori not necessarily fatal: remember the U2 case, with which Heroes have obvious parallels. Then, we see that the cliché of "musical differences", as an explanation for so many ruptures, is not a joke: the aesthetic distance between Enrique Bunbury, consumer of new trends, and Juan Valdivia's drift towards the role of guitar hero, with longing for both Slash and Dave Gilmour.
A clear villain appears, Ignacio Cubillas, Pito, its charismatic representative. More than his accounting shenanigans, he is held responsible for organizing an impossible schedule of performances, without scheduling breaks for decompression. The depth of the rancor against music criticism is also surprising, to which they attribute a characterization of Héroes as a "group for young girls". A metropolitan phobia (of Madrid and Barcelona) is even denounced against an impetuous gang that arrives from the provinces.
In theory, both cities had a show of turning upside down with, sorry, peripheral proposals. The problem with Héroes was that they came through the big channels, when the epics of artists who broadcast their demos on Radio 3-type stations and recorded for independent labels were still very much alive. Heroes were sponsored by a member of Olé Olé, they emerged with the muscle of a multinational and the support of radio formulas; It is logical that his farewell, in California and in 1996, has Joaquín Luqui as a "horrified" spectator.
The epic rock of Héroes del Silencio was hardly going to have an enthusiastic reception in Madrid: in the second half of the eighties the Malasan rock of Ronaldos, Enemigos and company took off. We didn't understand Bunbury's booming voice, halfway between Raphael and Jim Morrison. We did not understand its cryptic lyrics: one listened Submerged Iberia and I was vaguely thinking of disagreements between the Portuguese and the Spanish, not of the exhaustion of Felipe González's final years, as explained in Heroes of legend.
At five hundred pages, Antonio Cardiel's tome is too long and, at the same time, too short. Let me explain: it includes two books, one is the richest biography available on Heroes and the other a series of dense blocks of exegesis of songs, which incorporate their genealogy, based on takes of essays that the author (brother of the bassist, Joaquín Cardiel) listen exclusively. By reading logic, that should be part of one of those analyzes track by track, What The Beatles: revolution in the mind, de Ian McDonald.
It turns out to be finally a truncated book. Apart from a chronicle of the last concert of the 2007 tour, nothing is explained about the reasons for the comeback or what must have been an uncomfortable working mechanic. Surely there is a sobering story in the forced landing in Zaragoza of the three instrumentalists, while the vocalist flies in triumph around the world. Only In my inner refuge the booklet by drummer Pedro Andreu published last year suggests what a life without Heroes is like.
Impossible to ignore the laziness of Penguin Random House. Heroes of legend it has not gone through a fairly rigorous editing process. Someone should have used the red pencil before the excess of journalistic quotes or the endless lists of groups (important or forgotten) that shared the stage with the people of Zaragoza. It doesn't even appear to have undergone a thorough correction. Many misprints: Rebox (by Revox recorder), Stiky Fingers (for the Stones record Sticky Fingers), Mexico described as a "Central American country", electronic prescript (for electronic press kit, actually a video). Given its characteristic of a referential book, so careful in its photographic selection, it is surprising that such a volume lacks an index.
All these deficiencies should not hide the essential virtues of Antonio Cardiel: his ability to penetrate and his impartiality gives Bunbury the court, who preferred not to collaborate (but he is cited more than anyone, thanks to his numerous interviews and his famous diary). Enrique did participate in the filming of Heroes: Silence and rock & roll. Morante skillfully handles an immense file and I imagine that his main limitation has been the derivative of the duration conventions. Only the absence of female voices squeaks. Not for quota requirements, simply for the enrichment of prospects. I think of Marisa Ruiz (as representative of the dedicated EMI promotional team), Eugenia López (first road manager, later married to Valdivia), Benedetta Mazzini (child of the show business as Mina's daughter, inspiring of several songs) or, already put, some of those fans German women who, Cardiel reveals, took root in Zaragoza. But that's, alas, a common flaw in many musical documentaries.