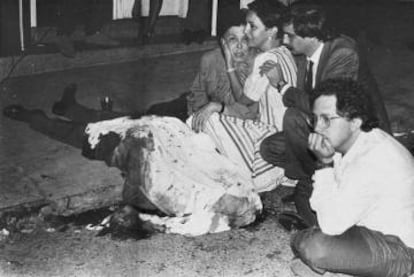 Héctor Abad Gómez was a good man. And today goodness is so discredited in the cinema that it is worth highlighting it. In these times it seems a lot of audacity to choose that theme to shoot a movie. More in Latin America. And let's not say if it is Mexico or Colombia. When, on top of that, the action takes place in Medellín during the crudest years of the drug trade, between the metallic din of the hitmen's motorcycles and the machine guns, the fact that Fernando Trueba has carried out a story like that of this epidemiologist can qualify as a miracle.
In addition, Héctor Abad Gómez is still prayed for. And the greatest prayer ever sung about him was sung by his son, Héctor Abad Faciolince, with the book of the same title on which the film is based, starring Javier Cámara. For decades, this masterful work continues to penetrate generation after generation and has become a fundamental counterpoint to what the wonderful Colombia gives of itself on the screens or now on the platforms.
The oblivion that we will be (Alfaguara) is a sacred book throughout the Spanish-speaking world. A certain exception about goodness, the most practical idealism, about the inconvenience of raising your voice at the risk of having your life taken from you. Therefore, taking it to the screen seemed a challenge as forced as it was untimely, as necessary as it was poisoned. Who could dare to give body, image, voice, breath, gesture and testimony to such a legend? Trueba has filmed it. Camera has embodied it and an effervescent team of Colombian interpreters have brought it forward brilliantly, although in our eyes, it is still strange, because it is practically exotic before the spectators to show the face of good and vindicate it.
After the test, let's see if the example spreads and we stop stoking the morbid by the dark and bloody side of a continent pregnant with light, ready to show vitality, drive, ingenuity, creativity to a greater extent to the sanbenito that is it has planted on top and that distorts realities that not only have to do with violence, abuse or death with little price.
Quite the contrary, in The oblivion that we will be the priceless gift of life is celebrated, the joy of being together, of sharing, of educating in values. This doctor is the Atticus Finch of the south, an upright, brave, dedicated man. His memory poured into words by his son became one of the father's literary masterpieces. The image that now takes on with Trueba's film and Javier Cámara's body and voice ennobles his presence in us and prevents that premonitory title from taking on its own truth. He challenges it and oblivion becomes through all this I remember. The memory curse is turned upside down and is denied because this doctor lives, breathes and acts as an example of what everything should be.