A former soccer ultra who channeled his anger through reading, a teacher who teaches Spanish canonical poetry with the help of rap and a musician who gives voice to a young woman who could well be a fictional sister of Antonio Andamientos have published three powerful novels that share the same literary scene: Valencia and its surroundings. Is about Norway (edited by Drassana), by Rafa Lahuerta; Jávea (Candaya), by Alberto Torres, and Porcelain fat (Temas de Hoy), by David Pascual, known as Mr. Perfumme. The three Valencian authors also coincide in the use of the self as the narrator of confessional stories, unconventional, harsh, with social and urban denunciation, peppered with humor, sometimes brutal. In addition, they have received excellent reviews in the case of the first two titles that have been in bookstores for a few months. The third has just gone on sale as an ambitious bet of the Planeta group that promotes it as the punk heiress of Crematorium, by Rafael Chirbes when we have the information.
The three authors smile when the name of the also Valencian writer is brought up, in search of journalistic labels. Whether or not it adjusts to reality, the referent is not bad at all, they say. Neither the subsequent mentions of Juan Marsé and Karl Ove Knausgård in relation to Norway and Jávea. Torres, 44, and Pascual, 40, already knew each other before the meal that brought them together last month in Valencia. In fact, the second appears as a character in the first's book. Perhaps in the fast-paced chapter that tells of a long after-dinner in a farmhouse surrounded by orange trees in Alzira, he is one of the friends.
Those friends who, before being known liberal professionals or artists, were already going on vacation to the chalet of "their parents in Jávea or Denia", while the author stayed "in the bathtub" of his house in the Raval de Sagunto neighborhood, and he was looking for summer jobs to pay for his degree. Hence comes the title of Jávea. "Perhaps there is a little bit of social resentment", admits with humor Torres, professor of Literature at a high school and author of eight novels, some awarded, such as Things that would never happen in Tokyo and other collectives, such as Postmodern hotel. "There is a grudge from the ciborium," jokes Pascual, scriptwriter of the recent documentary film Mystery of the Pink Flamingo and a worker on leave of absence in an occupational mental health center.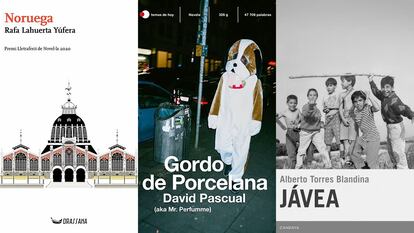 The burden of social complaint in Jávea It is obvious. Torres explains that his books are based on an essayistic purpose: "I don't quite understand how the world today, capitalism, works, and I try to analyze where I come from, what my experiences have been." "I think the artist is the one who reinvents himself. Look at Estopa, what a great first album and then, nothing, to repeat the success. I wanted to do something new, very free. I was scared because it is in the first person. Self-fiction has become fashionable and all the imitators arrive and it becomes superficial. Everyone plays to look good, to be something: I am a bastard, I am a I do not know what … It seems that Instagram filters have reached the literature. To try to separate myself from that I put all the meat on the grill. It has to be so real that it is even humiliating for me, I said to myself. I'm not going to cut myself into anything, after my mother corrects me, because she was going to undress me and my family, "says the playwright and musician. His mother accepted, not without suffering and criticism, as is read in the book.
Neither Rafa Lahuerta, 49, has gone much on vacation to the most popular destinations. stupendous from the Alicante coast. "Until we were 17 years old, we went abroad. When my father died, the holidays were over. I stayed in Valencia and took the opportunity to meet her. He would turn and look. I also began to work in the family's oven and went downtown every day, because I took bread to the bars, with my personal history on my back and I paid attention to things a lot and that has allowed me to rebuild the city, its bars, their places, their shops, what they saw ", points out this stationery manager and inveterate reader. He has composed a particular ode to Valencia before the advent of tourist apartments, although his title, Norway, allusive to the main character's family's salmon and salted fish shop, may mislead. He made a name for himself in the press with the slogans of Gol Gran, the Valencia CF club he created (after an initial stint at the Yomus ultras) and with his football articles.
Seven years ago he published his first book, The balada of the Torino bar, with the common thread of Valencia CF. "I am very from Valencia. I can't help it. I have always been considered more than an author a fan who sometimes writes. I always say that books have saved me in a very difficult time. Reading and writing was better than opening heads. I don't have the will to pursue a literary career, I'm not interested in the world of the artisteo ", he explains. The book, winner of the Premi Lletraferit, has already sold more than 2,500 copies, a great success for a novel written in Valencian. Its dissemination has been contributed by an intelligent campaign on social networks that captures the reader's curiosity with a comment, a fragment or details about the city that appear in a mighty novel, which contains a vivid description of the eighties in Chinatown, invaded by heroin. Lahuerta denies that the narrator is a alter ego. "Among other things, because he would be dead, because he is a posthumous voice and he is a guy who has a bad conscience for not having lived up to the efforts of his elders," he explains.
Drugs in generational portraits
The drug is present in the three novels, which are also generational portraits from different eras. In shocking Gporcelain order it is the way to escape the terrible past of its protagonist. "My book is very crazy," says David Pascual, also author of Transirak and the drawings included in his new work. "The idea came up when, watching the Netflix documentary about the Alcàsser case, a sister of Antonio Andamientos appears [sentenciado como autor material del triple crimen acontecido en 1992] wearing a wig and sunglasses and people start to insult her and shout: 'Murderer'. What I do is imagine a fictional character to ask myself what is wrong with this person, with such a difficult childhood in a marginalized neighborhood of Picassent [Valencia]What do you get from society when you are the sister of a monster ", she points out.
It is a risky, radical setting. "It is the story of Dolo throughout three days of her life, the moment she broke down and with it her attempt to lead a normal life. She has a husband and a daughter, lives the dream of going on vacation to Marina d'Or [popular complejo turístico en Oropesa, Castellón] and is the creator of a cartoon for children starring Porcelain fat man [un anime español que triunfa en Japón y en todo el mundo en la novela]", Explain. The book contains several stories inside, such as Torres and Lahuerta's novels. It is not about the Alcàsser crime, although it resonates between its pages. The case marked a whole generation. "It is often said that tragedies unite us or make us worse. In it Alcàsser case Everything got worse: the media, the trash TV, the political class, the people who appeared on the programs … ", points out Pascual.