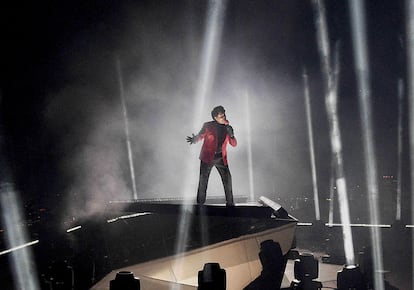 The Weeknd, Ed Sheeran, BTS, Demi Lovato, Metallica and dozens of artists will perform at the Global Citizen 2021 concert. Created by a philanthropic organization with the same name, it will be held on September 26 and will be a 24-hour special that will air live from six continents. These artists will offer their live performance as part of Global Citizen's Recovery Plan for the World, a campaign to help kick-start the global recovery caused by, among other things, covid-19. The objective is to raise awareness and request funds from large donors in support of the fight against poverty, climate change and international inequality that is causing the health crisis. In addition, according to the statement, they will focus on supporting "gender equality, racial equity, LGBTIQ + rights and people with disabilities."
Global Citizen CEO Hugh Evans has said in the magazine Variety which is the biggest they have done to date: "There will be live audiences all over the world. We will have about 60,000 people in Central Park, New York, and a large audience in front of the Eiffel Tower, in Paris ". Activists and world leaders will take the stage in iconic locations around the world, including London, Los Angeles, Lagos, Rio de Janeiro, Seoul and Sydney.
Lorde, Doja Cat, Billie Eilish, Lizzo, Shawn Mendes, Camila Cabello, Green Day, HER or Coldplay have also confirmed their presence. The campaign has already started. Although anyone can participate, the organizers target companies, world leaders and large corporations. "We have 20 world leaders who have already pledged to step forward as part of the campaign, from the Speaker of the House of Representatives, Nancy Pelosi, to the President of France, Emmanuel Macron. But we also need the private sector, "says Evans.
At the moment, the web explains that to join it is only necessary to download the Global Citizen application or visit the website and register. Once inside, you can sign petitions, share messages on social media, or write letters and emails to political representatives.
Evans has reported that they will give more details on August 3: which artist will be in which city, where to buy tickets or where to see him. At the moment, they have announced that it can be followed on the YouTube and Twitter platforms. "I can tell you that there will be a 24-hour live broadcast that will go around the world, in which we will literally follow the sun. The BBC has promised to give the same coverage that it offered to Live Aid in its day: six hours live on BBC1, which is extraordinary ", he revealed.