TECLA is the invisible city of Italo Calvino that never finishes defining itself, it is the city that is condemned to change shape and, therefore, it is any current metropolis. That is why the architect Mario Cucinella (Palermo, 1960) has named this adobe house prototype materialized with a 3D printer and built in Massa Lombarda, an Italian town near Ravenna. Like any city when it changes shape, the prototype is a bridge between the past – adobe houses – and the future – houses made of earth and local fibers joined by a coagulant (5% of the matter) and printed in 3D. That is why this house is both something eternal and something never seen: cutting-edge technology at the service of what is out of time.
Cucinella has worked with the Italian company WASP —experts in 3D printing— and explains that "the scale of buildings and the speed at which their parts can be obtained continues to increase with the constant updating of 3D technology". Printing this house of 60 square meters, and 49 useful meters, has cost 200 hours of work (in several printers). For the moment, and since it is a prototype designed so that it can be reproduced – and with repetition lower its cost – neither the architect nor the company can offer an approximate cost.
They do offer more information about the material, which is also the structure and finish of the house. It is a high percentage of local soil mixed with fibers, in this case rice, and with 5% of a coagulant produced by the Mapei company. That decision – that everything was earth, a single material – is strategic, that is to say: at the same time technical, economic and aesthetic. On the one hand, it reduces the possibility of joint errors and limits material waste to zero. On the other hand, the shape of the resulting house is uniquely organic: the opposite of what one might expect from a house made out of a machine.
TECLA is a prototype that seeks to build houses from the ground where they will be built. The soil that is worked with, and the fibers that are used for the material mixture, are always local and, therefore, the carbon emission is low. In addition, both the aesthetics and the insulating nature of the material facilitate energy control, shelter and insulate while allowing ventilation. The idea of ​​the cave refers to the type of semi-underground dwellings built with earth in Matmata, the troglodyte houses in southern Tunisia,
Inside the house there is a living area, a bathroom and a bedroom. The furniture, shelves and benches are part of the walls of the house and are also produced by a 3-D printer.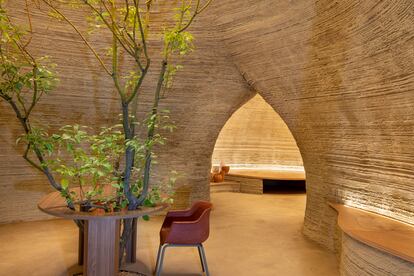 The union between the local and the vernacular, the speed of production and construction, the low carbon emission during construction and the zero kilometer of materials – are created in situ– They could make future-laden proposals of these prototypes. It remains to look at the final cost of homes to understand whether it is a clever idea or a brilliant solution to homelessness in many regions of the world. Cucinella, who has finished the construction of the Church of Santa Maria Goretti in Mormanno and will conclude the Hospital of San Rafael in Milan next fall, talks about technology at the service of the human condition and the environment. "People's problems on earth can find a solution on earth itself."