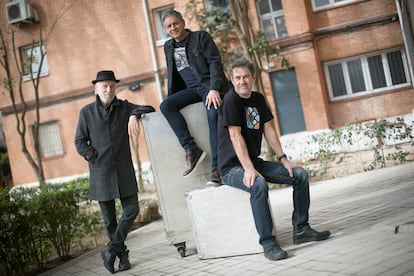 The song Princess, by Joaquín Sabina, has sounded since 1985 on radios, telephones and televisions to tell that woman: "Now it's too late, princess / Find another dog / Let him bark at you, princess." At that time, the singer-songwriter was accompanied by a band, Viceversa. Now, that group has wanted to recover the repertoire of those five years (from 1983 to 1987) in which they soaked themselves in the musician life with Sabina. Pancho Varona (62 years old, Madrid), bass and voice; Paco Beneyto (62 years old, Villena, Alicante), drums, and Manolo Rodríguez (59 years old, Madrid), guitar, are going to return those melodies to the stage. Varona, who has been accompanying Sabina for 39 years, points out: "We were excited to recover mythical songs that we played with Sabina and that people are eager to hear."
Besides Varona, Beneyto sometimes accompanies Sabina (72 years old, Úbeda), but Rodríguez has not been playing professionally for 25 years. In fact, the Madrid venue where they have started to rehearse and where the interview takes place is also his personal studio, which he uses for his current job as a sound technician. "In fact, if we have a concert on a Sunday, he has to go screaming, because he works on the Iker Jiménez program," jokes Varona. What moves Beneyto the most is to play with his partner again, and Rodríguez agrees: "I could do versions of that time with other people, but it makes perfect sense to do them with Pancho and Paco, my friends."
They have had to rehearse intermittently for the covid, for the snowfall and for a fall of Varona, who is already well. The first concert is scheduled for June 20 at the Muñoz Seca theater in Madrid, which for Rodríguez is a space with a "brave bet" to continue programming despite the crisis left by the pandemic. The guitarist explains that the idea was born from two concerts at the Galileo Theater, in 2018 and 2019, where they reinforced the band and brought guests.
The concerts have gone to shit, the musicians continue working, but desperate

Pancho varona
They also return to fight their dignity as musicians: "The concerts have gone to hell, the musicians continue working, but desperate. We have a chat where the Sabina musicians are, and when one says they have a concert, we all respond: 'Damn, congratulations! "Varona exclaims. Not everyone is that lucky. "A colleague works in a nursing home putting up speakers for music," he adds. They also complain that they are the last and always have been, that they have given free online concerts or classes, and that no help has been up to what they do.
Of all the Sabina and Viceversa concerts, the drummer recalls with emotion one in Bilbao: "Joaquín saw a queue going around the block and said: 'That won't be because of us, right?". It was the first time we saw so many people in a place where we were going to play ". Varona adds: "Joaquín always says that that day he realized something was wrong. And look, 30 years later, how it is. " The band maintains that same energy and desire to make music. Rodríguez, who admits that he loves the idea of ​​three, wants to interpret January sales for the "incredible" guitar solo: "We were amazed at how it sounds like that, without so much accompaniment".
Varona opts more for the lyrics: "I want a song, Citizen zero, because it is the second that I composed with Joaquín [la primera fue la Balada de tolito]. It is very sinister and sad, I have a special affection for it ". He proudly admits that Sabina taught him the trade, "to savor the lyrics of the songs" or to rhyme in assonance and consonant. But also to travel – for example, when landing in Buenos Aires I recommended a book about Argentina – to listen to music – especially Bob Dylan. "So many things that I would spend hours explaining them, for that I am grateful. Not only has it given me a job, a wonderful job, but it has taught me to live in a certain way ".
Neither hard nor soft nor pop rock
The clothes they wear are a reflection of their heterogeneous style when it comes to playing. Varona wears an elegant coat and hat, and the other two members of the band wear T-shirts; Rodriguez's from Radiohead. "We are neither hard rock nor soft nor pop." They say they sound like Cream, Leño or Police, the group they listened to on tours at all hours. "It was our source of inspiration, we wanted to be them when we got together to listen to albums like Love Outlandos O White reggatta", Says Varona, although her favorites are the Beatles. He squirms in his seat and even raises his voice to say that they make him fall in love every day: "I always discover something new. They were so sure of themselves that they were capable of doing the greatest atrocities knowing that the more they did, the more they would transcend ". Rodríguez seconded him, but remembered an adolescent episode: at the age of 14 they gave him Rubber Soul, of The Beatles, and went to El Corte Inglés to change it for Passport to Dublin, from Karina. "They must have hallucinated, they did not put any fault, of course," he says with a laugh.