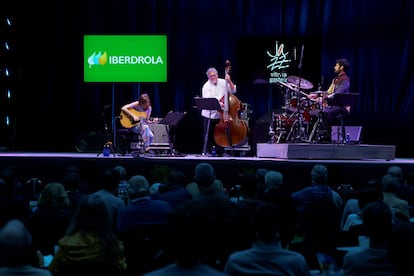 When an event has as many years of history as the Vitoria Jazz Festival, its usual spaces are also part of its personality. That is why, after a year and a half of pandemic and the very reduced edition that took place last year, it is really gratifying to return to the Principal Theater to listen to jazz, as every year, and even more so when Gonzalo's group is on stage. del Val. Presenting his latest album, Song book, the drummer opened Thursday afternoon in Vitoria with an exquisite concert, accompanied by the pianist Marco Mezquida, the double bass player David Mengual and the trumpeter Benet Palet, and showing why they are one of the most interesting formations of our scene. The setting helped, with that return to Principal warmly enveloping the music, and what felt like a heartfelt connection between the band and the audience.
The other classic stage of the festival, the Mendizorrotza Pavilion, will have to wait, and for this year the concerts with the largest capacity are concentrated in the Iradier Arena, a space set up to host all kinds of shows for months in the city, with distance social, limited capacity and all current sanitary measures.
The presence of Thumbscrew in the festival it had a much greater weight than, very probably, it would have had in a normal edition. The music of the trio formed by Mary Halvorson, Michael Formanek and Tomas Fujiwara is not particularly "hard" for a fan of contemporary jazz, but it is demanding and with few concessions for a casual spectator, which means that proposals like this are not seen to often on the main stages of the great jazz festivals in Spain, a country with little waist for what comes out of the orthodoxy and tradition of the genre. However, in 2021 Thumbscrew is one of the few North American bands that we can see around here, and if we add to that that its members They are three of the most interesting musicians on the international scene, it is normal to present them as a highlight of the festival, and an event in the jazz summer.
Thumbscrew is a trio in which the community is pure: the absence of leadership on the part of any of its members is manifest, and to listen to them meaningfully you have to soak up everything that is playing at all times. The three musicians lead other trios, very different, but Thumbscrew's music has little to do with that of the Mary Halvorson Trio, Formanek's Very Practical Trio or the 7 Poets Trio. from Fujiwara, to give a few examples; here everything flows as a block, with a direction marked in unison by three independent and personal creators. His concert in Vitoria did not focus on his new album, but on a recapitulation of several of his latest recordings, with originals such as Cruel Heartless Bastards, Sequel To Sadness O One Day, but also reinterpretations of standards by Jimmy Rowles and Herbie Nichols, their version of tango Good friend, by Julio de Caro, and even a composition by maestro Anthony Braxton. A repertoire that gave a broad vision of Thumbscrew's music, but that also had something irregular, perhaps because neither the stage nor the venue were conducive to this kind of music.
Without falling into sterile clichés about whether concerts are for one type of space, and stop working in another, the truth is that the coldness of the venue did not help to connect with the group, which at times seemed to be playing also without reaching the high degrees of internal communication to which they are accustomed. Everything flowed freely, and the music was excellent, but there was the feeling that in a smaller space, with more compact and detailed acoustics, the possibility of interaction would have been greater, and the concert more exciting.
The afternoon in Iradier had opened with the trio of Pablo Martín Caminero, an illustrious man from Vitoria who presented the project Right now, in which he pays tribute to the tradition of flamenco guitar. Caminero has been among the great double bassists of our country for years, and his great flamenco background means that he can reinvent with category and credibility pieces by maestro Sabicas, Manolo Sanlucar, Rafael Riqueni and other giants of the flamenco tradition. There is no guitarist in his trio, of course, nor is it necessary: ​​with Moisés Sánchez on piano and Paquito González on percussion, Caminero builds a complete fusion of jazz and flamenco without common places.