Santiago Hernández expresses himself with passion. He is only 27 years old, but he is already easily lost in the nooks and crannies of the past and talks about them like someone who feels far from home. When he arrived in Spain from Mexico three years ago, his little brother Sebastián had been in our country long enough to have traveled Europe a lot and decided that music would be his way of life. Bastián, as Santiago affectionately calls him during the video call interview, listens to his brother talk about childhood in Mexico City, about the artistic gatherings at his parents' house, and he nods with an evocative smile, as if he could still hear those songs that Sounded then, the boleros and the jarochos sounds that have accompanied them so many kilometers later.
Since the two brothers live in Madrid, where their father came to work, the music of their city of origin and of their mother's native Veracruz has been played in the after-dinner hours as an invocation to Armando Manzanero, Agustín Lara and Pablo Milanés, among other ambassadors. of the Latin American song. They are its references and, after all, the people responsible for Zuaraz's taking shape up to now. The third member of Zuaraz is the compostelan Xoan Domínguez (of the Blanco Palamera group), and they already have a first album, Bugambilia (Raso Estudio, 2021).
From those pauses after meals, accompanied by the second family they have found in Spain, between guitars and the memories of the first, the one they left in Mexico, the seven songs of their debut are born, most of them composed by Santiago. They were in a drawer for a while and by the time they decided to rescue and review them Xoan was already like a third brother who would join the project. "I met Xoan in a yoga class at the Música Creativa de Malasaña school in Madrid," says Sebastián, adding: "I threw myself into the pool. When I got there it was just Xoán and me, it was love at first sight ". A year after that Blanco Palamera was founded and Sebastián started playing with them. It was the origin of other synergies and projects.
For Santiago "Xoán is the key to all this. In the after-meals he would put in a syncopation that we thought sounded very curious with the rhythm that we bring from Veracruz, from Guanajuato, from Mexico City ". He also recounts how Xoan's musical experience was instrumental in the process of creating Bugambilia: "We work lyrics and melody, but then both arrive at the port of Xoan, who tells us whether to go one place or another. When that dialogue exists, everything is building between the three of them. "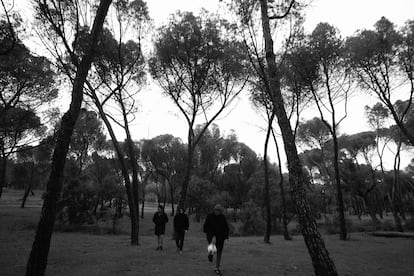 Despite its spontaneous and fluid sound, in Zuaraz few things go well by chance. The love and respect for the musical genres of their tradition is the basis of what they do and that implies sitting down, studying, being precise. Santiago explains it in detail: "To compose the song AM we look at very clear examples of the jarocho son of yesteryear. In the last topic of Bugambilia, a tribute to Veracruz by Agustín Lara, the verses that we include at the end were written by sudden From Veracruz, Mardonio Sinta, who was dedicated to releasing verses in the midst of his epiphany while the poet Francisco Hernández caught up with them on the fly ".
Thus, in a sustained balance between the classic and the contemporary, Zuaraz refines their own voice. At the moment they have managed to adapt the romantic song to some codes, the current ones, which are unmarked from romantic love and macho lyrics of other times. On the difficulties they have encountered or not in this process, the two brothers close ranks: "We are very romantic and we really like our past. We played to communicate with our grandmothers and with our family in Mexico. It's what makes us happy: touching the past and trying to turn it into something new, listening to and reconditioning what we played before, "says Sebastián.
By the way, Santiago remembers Irene Vallejo in The Infinite in a reed, a passage that imagines Quevedo or Cervantes returning now: "They would feel totally strange, but they would feel comfortable with books, they could open them and they would know how to walk it. There is something from their world that still exists in ours. Hopefully life allows us to sit down with Agustín Lara, Omara Portuondo or Armando Manzanero to talk about our songs ".
Bugambilia It is the beginning of great musical plans. For now, and if the covid allows them, they would like to roll the album: "We would love to be able to at least present it live. But we are not in a hurry either, these are very complex and terrible times and I think there are also other priorities, "says Sebastián with his particular sensitivity.
Until the time comes to dance again, they will remain seated, composing, reading, waiting for that after-dinner that music owes them.
What do Sebastián and Santiago Hernández listen to?
Paco Moreno "drives him crazy" and he confesses to being a follower of Ketama and Daniel's 'glam bolero', 'I'm Killing'. Santiago, for his part, speaks wonders of Sen Senra (a friend of the band) and admits that he is fascinated by C. Tangana, Silvia Estrada and, "of course, the Mexicans Café Tacvba."